par
Lisa Chamoff
, Contributing Reporter | July 09, 2018
From the July 2018 issue of HealthCare Business News magazine
Fujifilm
Fujifilm introduced two products last year. In January 2017, it upgraded the ASPIRE Cristalle, introduced in 2013, to include digital breast tomosynthesis, and at the end of 2017, the company released mobile tomosynthesis.
"Even for women who do have insurance, only 68 percent of them have had a recent mammogram," said Susan Crennan, women's health product marketing manager for FUJIFILM Medical Systems U.S.A., Inc. "We want to make sure all women have access to the latest technologies."

Midmark Workstations are made to order with customization that can assist with the integration of telehealth and other technology at the point of care, wherever that may be. See more>>>

The company works with a range of mobile imaging vendors for the exams.

The ASPIRE Cristalle has an amorphous selenium detector with Hexagonal Close Pattern (HCP) capture circuitry design, which Crennan said outperforms traditional pixel arrays with a 20 percent increase in detector sensitivity. With 50 microns of resolution, the tomosynthesis exposure time on the ASPIRE Cristalle is four seconds or less, meaning a low likelihood of patient movement, Crennan said. There is also a 15-second interval between subsequent images.
There's no need to wait for the machine and technologist," Crennan said. "Other systems tend to have longer intervals — up to 40 seconds — between exposures."
This year, the company released Dynamic Visualization II for Mammography (DVIIm). The second generation of the software offers intelligent auto recognition of breast tissue, implants and structural characteristics to intelligently adapt image contrast and density, for enhanced diagnostic visibility, according to the company. DVIIm also provides improved contrast and density stability throughout the exposure region and achieves improved visibility across a wide range of breast compositions.
Galen MRI
Galen MRI is currently going through the FDA approval process for its new 1.5-tesla breast MR system, called Emma.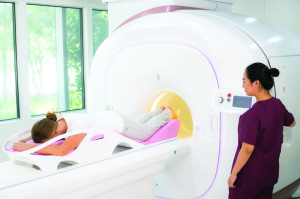 David Tse, the board chairman for Galen MRI, said the abbreviated protocols for Emma reduce the scan time from 45 minutes to 15 minutes. This, in turn, lowers the cost of the scan and helps reduce the cost to around $600 per scan. The AB protocol was tested on 1,500 women at the Memorial Sloan Kettering Imaging Center in New York City.
The system comes with three sizes of breast coils, and the company is in the process of developing a system to reduce noise level. A cloud system, for educational use, will allow the DICOM images to be shared with privacy protection.
There are also machine learning protocols to further reduce the time between the preparatory scan and the proper scan, and two AI systems. The first, called Scan Assistant, scans the images to enhance radiologists' diagnosis, while Report Assistant generates the initial scan report, to facilitate further reporting.
Galen also plans to work with other big data teams, such as Watson's big data team on breast cancer, to further advance the knowledge of breast cancer detection and containment, Tse said.
"With its dedicated coil and AB protocol, Emma will simultaneously help advance early breast cancer detection and lower the cost of breast MR," Tse said.