par
Joan Trombetti
, Writer | September 02, 2009
This report originally appeared in the August 2009 issue of DOTmed Business News
Sterilization is a well-known, critical procedure done in any clinical setting to prevent infections that, unfortunately, occur in hospital and medical care facilities all over the world.
In hospital settings, the most common sterilizer is the steam autoclave. Many hospitals also own an ethylene oxide unit. Advances have been made using Sterad systems (ozone and liquid systems), while cold sterilization using liquids also have proponents.

For those who need to move fast and expand clinical capabilities -- and would love new equipment -- the uCT 550 Advance offers a new fully configured 80-slice CT in up to 2 weeks with routine maintenance and parts and Software Upgrades for Life™ included.

EtO Sterilizer Update
The Deadline for Compliance Reports to EPA has Passed
Many hospital facilities using the Ethylene Oxide (EtO) Sterilizer are facing close scrutiny and review. The 1990 Clean Air Act labeled EtO as a hazardous air pollutant and consequently directed the Environmental Protection Agency (EPA) to regulate its emissions. In 2007, the EPA delivered a final ruling regulating these sterilizers stating users must adhere to rules in terms of work practices rather than device replacements. For example, a facility using an EtO sterilizer must run the machine fully loaded or have air pollution control devices (APCD).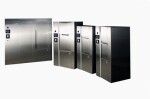 Most will agree that running a fully-loaded sterilizer is more economical, and the EPA's take is - the fuller the sterilizer, the less times it runs; therefore, less EtO gases are emitted into the air. Exceptions to this rule are medically determined circumstances that require the sterilizer to run less than full or if the EtO has an APCD. The rule applies to hospitals, which are deemed to be a major source of hazardous air pollutants but does not apply to health care providers that see patients on an outpatient basis.
To ensure these rules are enforced, hospitals must keep records every time an EtO sterilizer is used and if, for a medically determined reason, the sterilizer is used less than full, a special administratively signed note must accompany the report indicating why the sterilization was run at less than capacity.
Compliance to these rules is determined by whether the sterilizer is existing or new. An 'existing' source would be considered a sterilizer installed or rebuilt before November 6, 2006, and a Notification of Compliance Status (INOCS) report had to be recorded with the EPA by June 2009. EtO sterilizers installed after November 6, 2006 are referred to as 'new' and must report to the EPA 180 days from the date the sterilizer was put into use. Copies of these reports must be maintained by a hospital for each EtO sterilizer in use.