par
John R. Fischer
, Senior Reporter | May 10, 2021
From the May 2021 issue of HealthCare Business News magazine
The other driver is the development of AI algorithms for reading scans, triaging cases and automating other tasks to help physicians manage heavy workloads and use their time more efficiently. With imaging informatics, clinicians can create metadata standards that label different types of images with information that makes the data contained in them shareable, understood and accessible among different specialties for AI development and research. This metadata information can be incorporated into algorithms such as radiomics and radiogenomics that can be used to more accurately diagnose conditions, with clinicians then able to create personalized treatment plans.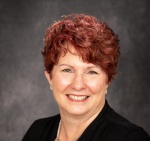 "What type of scanner, what sequences were used, will feed into algorithms. All of that comes from the metadata that's stored in an imaging file," said Dr. Cheryl Petersilge, founder and CEO of Vidagos, an enterprise imaging consulting firm. "As we move beyond DICOM to things like digital photos, we have to ensure those photos are also labeled with the same metadata so they can be just as valuable in AI."

Quest Imaging Solutions provides all major brands of surgical c-arms (new and refurbished) and carries a large inventory for purchase or rent. With over 20 years in the medical equipment business we can help you fulfill your equipment needs

Working as a team
The first question Petersilge asks people when they ask about setting up an enterprise imaging system is what is the "driving force" behind their decision. This gives a clear indication of not only what they are seeking to gain but also what their imaging informatics plan will be.
"The first thing they have to know is what is the current state of their organization," said Petersilge. "They need to do a deep dive. An organization may think it has a good knowledge of its imaging activities. But when you start talking to people, lots of things come out of the woodwork."
This beckons the need for collaborations with both medical and non-medical professionals, all of whom contribute to a successful imaging informatics strategy. The COVID-19 pandemic illustrated this over the last year by forcing clinicians to work from home. "We had to make sure we had workflows that could work from home, that workstations and monitors were there," said Towbin. "Having ways to do that really fell on IT staff. People with good IT staff saw value in that, and people with limited IT staff saw where that caused them problems."