par
John W. Mitchell
, Senior Correspondent | February 05, 2019
From the January/February issue of HealthCare Business News magazine
One of the specific issues we encountered was finding a suitable projector to use. We initially used a laser projector because of its ability to be in focus at all levels of depth at the same time, something not possible for a regular projector. This was not feasible due to laser projectors not being widely available at the size and cost we wanted, and the handheld model did not have the illumination required to work in a lit room. Switching to an LED projector limited the area which can be in focus, but this has not been an issue with the size of spaces we have been using. The increased illumination and reduced cost have been worth the trade-off.

Numed, a well established company in business since 1975 provides a wide range of service options including time & material service, PM only contracts, full service contracts, labor only contracts & system relocation. Call 800 96 Numed for more info.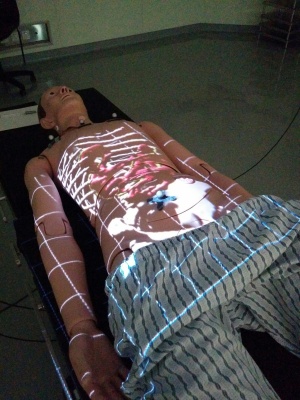 HCB News: What are some of the areas where you're trying to improve or perfect the system?
IW:
In order for a system to be used for medical applications it must be consistent and accurate. We have been making improvements to the calibration process of aligning the projector and motion capture systems by trying different algorithms and reducing user input error. Another work in progress is improving and automating the registration between the virtual images and their physical targets. This reduces the set-up time and difficulty of usage along with improvements to the user interface. There are no firmly established standards for how an AR system should work since they are new and different from each other, which leaves lots of room for improvement.
Other AR researchers have also been making advancements that can be implemented in the future. An example would be elegant ways to handle the occlusion that occurs when an untracked object moves in front of the projection target.
HCB News: What type of medical uses does ProjectDR already have? Are there other applications you see down the line?
IW:
ProjectDR is a general purpose tool that can be used to display images on tracked targets, so there are many potential uses. As I mentioned before, we've been working on using the system for adjustments to the spine. They have to use medical images to identify a position and direction to apply a force to the spine. There is a lot of variability between people so it can be quite challenging to find internal structures, even ones near the surface like vertebrae.