par
Philip F. Jacobus
, CEO | December 12, 2018
Last week, I had the pleasure of attending the Florida Biomedical Society (FBS) meeting in Orlando, Florida. I have attended a number of regional HTM shows this year and all of them are growing. FBS is another example.
Bill Hascup, the immediate past president, was the coordinator of the show. He really is a charming guy and has that skill of making everyone feel important. He seemed to have thought of everything and even the weather cooperated, because I would hate to think what would have happen if there was rain on the carving board during the Friday night reception.
I saw Fred McMurtrie who was his usual charming self and I even met his wife Andrea Moe, who is also a biomed tech.

Quest Imaging Solutions provides all major brands of surgical c-arms (new and refurbished) and carries a large inventory for purchase or rent. With over 20 years in the medical equipment business we can help you fulfill your equipment needs

There were almost 700 attendees at this show, with over 100 exhibitors and lots of engagement.
John Alvenus, the current President, gave the President's award to Henry Hummel, President of TriMedx. The award was given to TriMedx for its participation and partnership with FBS.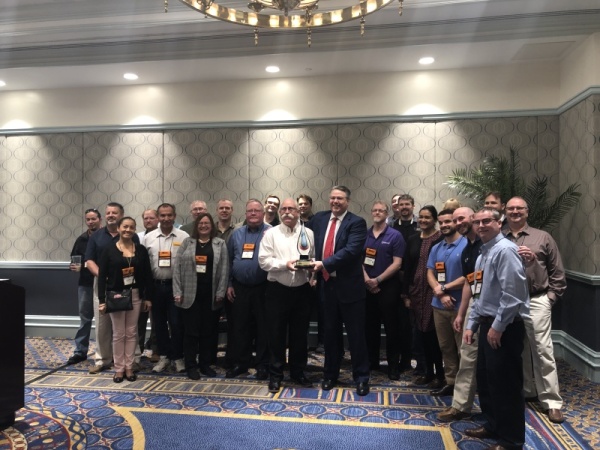 No FBS event would be complete without running into Jim Bowles and sure enough I did. As a long time TriMedx employee, Jim was excited to tell me about the Aramark acquisition and told me what a pleasant and down to earth fellow Henry Hummel is. The photograph shows all of the TriMedx employees that attended the FBS and Henry and Jim are holding the award.
HealthCare Business News and DOTmed have supported the event over the years and we expect to continue to do so.
So to John, Bill, Fred, Jim and all the other FBS members, congratulations on another well done event.
Phil is a member of AHRA, HFMA, AAMI and the Cryogenic Society of America. He has contributed to a number of magazines and journals and has addressed trade groups.
Phil's proudest achievement is that he has been happily married to his wife Barbara since 1989, who helped him found DOTmed in 1998.