Columbia Asia Radiology Group
Indian-based Columbia Asia Radiology Group is one of the largest hospital groups in Asia, with small and medium-sized hospitals across Malaysia, India, Indonesia and Vietnam. It is a leading provider of teleradiology reading services domestically and also has international presence, including in the U.S., EMEA and South-East Asia.
I-MED Radiology Network

Quest Imaging Solutions provides all major brands of surgical c-arms (new and refurbished) and carries a large inventory for purchase or rent. With over 20 years in the medical equipment business we can help you fulfill your equipment needs

I-MED is Australia's largest radiology network and third largest imaging provider globally, with clinics in every state/territory. In 2018 European private equity firm Permira acquired the group for AUD 1.25 billion (USD 0.93 billion) and has since supported I-MED's acquisitions of local radiology groups. Teleradiology is a relatively small part of the overall business; I-MED performs almost 5 million patient procedures annually, although emergency and after-hours teleradiology reporting from its "I-TeleRAD" group represents around 10% of its annual volumes.
The graphic below includes examples of reading service providers by country and shows that many countries are dominated by local vendors.
4. IT Only
— Includes IT vendors that sell either their standard imaging IT products or solutions tailored for teleradiology, to teleradiology reading service providers. These include traditional imaging IT vendors such as Intelerad, Fujifilm, GE, IBM and OnePACS, and teleradiology IT specialists such as RamSoft and Meddiff Technologies.
Intelerad
Intelerad is a Canadian-based provider of teleradiology PACS, enterprise and workflow solutions. It features most prominently as a supplier of third-party IT for several teleradiology vendors, including I-MED Radiology Network (I-TeleRAD), Integral Diagnostics, Global Diagnostics and Everlight Radiology.
Meddiff Technologies
With over 800 clients and more than 1,500 installations, Meddiff is the leading teleradiology platform provider in India. Its clients include India's leading medical institutions in both the public and private sector, such as Apollo, Fortis, Manipal, HCG; and overseas, such as Columbia Asia (Malaysia, Indonesia, Vietnam) and European Scanning Centre (U.K.).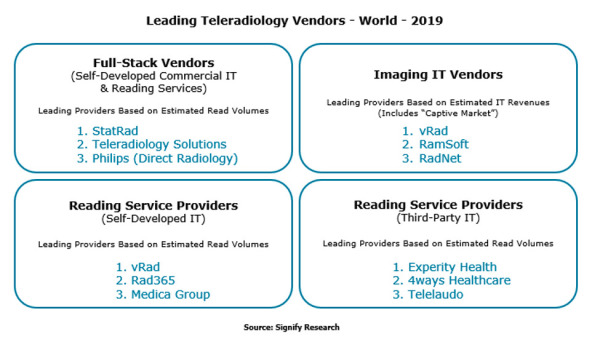 Fragmented Teleradiology IT Competitive Environment
Whilst the teleradiology reading services market has a clear market leader in vRad, the teleradiology IT market is not dominated by any vendors, with contracts often relatively small in value and fragmented. In recent years, there has been an increasing trend for vendors to have a mix of self-developed and off-the-shelf (third-party) IT solutions for teleradiology. Everlight Radiology, Medica Group and USARAD are examples of vendors that use a commercial PACS solution from a traditional imaging IT vendor, in conjunction with a self-developed workflow solution.