par
Lisa Chamoff
, Contributing Reporter | June 15, 2020
From the May 2020 issue of HealthCare Business News magazine
"We're using PET in a different way that turns tumors into real-time transponders," said Sam Mazin, RefleXion Medical's founder and chief technology officer. "With BgRT, you can enable all tumors to light up, which allows treating multiple tumors in the same session. We view it as a significant improvement to conventional radiotherapy today."
Randomized controlled trials for localized treatment of limited metastatic disease in some cancers have shown improvement in overall survival of 30 to 50%, Mazin said.

Numed, a well established company in business since 1975 provides a wide range of service options including time & material service, PM only contracts, full service contracts, labor only contracts & system relocation. Call 800 96 Numed for more info.

Mazin said there has been interest among the pharmaceutical industry in combination therapy.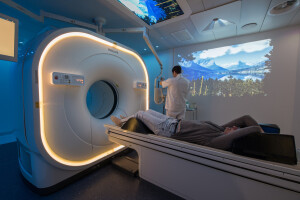 Philips
Philips is continuing to promote Vereos, the digital PET/CT system it began shipping at the end of 2017.
Shekar Ramakrishna, general manager for advanced molecular imaging at Philips, said that the company has now has more than four years of investigational studies and over 100 published clinical studies supporting the world's first and only fully digital PET/CT solution.
"We're working to support hospitals and imaging centers as they seek to step up their performance by simultaneously improving the patient experience, health outcomes, and staff experience, while lowering the cost of care," Ramakrishna said.
Siemens Healthineers
Earlier this year, Siemens received FDA clearance for the new AIDAN artificial intelligence technologies for its Biograph family of PET/CT systems, including the Biograph Horizon, Biograph mCT, and Biograph Vision.
AIDAN provides three new features — FlowMotion AI, OncoFreeze AI and PET FAST WorkFlow AI.
FlowMotion AI enhances the company's FlowMotion technology, which provides personalized exam protocols based on the patient's anatomy,
"You design a protocol to a disease," said Katherina Swystun, global PET marketing manager at Siemens Healthineers. "What FlowMotion AI allows you to do is set scan parameters based on disease, and it enables you to personalize the scan to the patient by automatically detecting the patient's anatomy and defining the correct scan parameters and ranges specific to that patient. It gives you the flexibility to integrate, for example, motion management easily into your scan protocol. The AI will select automatically the range where motion management is needed and corrects for it."