par
John W. Mitchell
, Senior Correspondent | June 08, 2020
From the May 2020 issue of HealthCare Business News magazine
We want to pair a client with the best piece of equipment to meet their needs," added Hoover. "If it's a unit that's going to come on-site once a week for service — a "set it and forget it" scenario — we try to find the right price point balance to grow their business."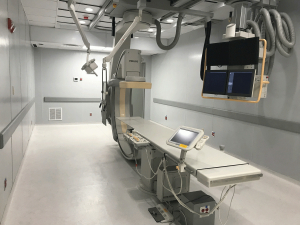 Providing sufficient lead time is vital to ensuring access to the necessary equipment. Mark Koers, executive vice president of sales and marketing at Modular Devices, which specializes in mobile cardiac cath labs, reported that the inventory in the mobile market is more limited than the fixed market. He said that clients who are good planners will book specific equipment 60 to 90 days in advance, or even longer to ensure they lock in the equipment they need. But, he added, it's not unusual for a client to reach out to them for delivery in a week or less.

Numed, a well established company in business since 1975 provides a wide range of service options including time & material service, PM only contracts, full service contracts, labor only contracts & system relocation. Call 800 96 Numed for more info.

"We have a fleet of 26 systems, so we're usually in a good position to help with having a system or two readily available," said Koers. "But the challenge with waiting until the last minute is there are limited system options, and the chances of having a preferred mobile lab system readily available are much lower."
When a hospital is replacing or upgrading multiple rooms at once, cardiovascular mobile options can offer a high level of flexibility, whereby a single unit can support more than one purpose, according to Ken Harb, CEO of Cardiac Services Mobile Inc. (CSMI). They are also easier to put in place than more permanent solutions.
"Ease of installation for a mobile is more cost-effective and less labor-intensive than either a facility build-out or a modular system," said Harb. "Such a temporary installation allows flexibility during extensive construction projects."
An accelerating market
Overall, mobile imaging orders — at least before the COVID-19 pandemic — to the U.S. hospital system have been trending up for the past year.
"Orders were up tremendously" from existing, new and OEM customers, Ronald Taylor, president of SVSR, which manufacturers specialty mobile imaging trailers, told HCB News. Manufacturers are requesting updates to old coaches to incorporate the latest technology, including green features related to better energy consumption.