par
John R. Fischer
, Senior Reporter | October 08, 2019
Stratasys has unveiled a new 3D printer capable of recreating actual tissue response in synthetic tissue replicas.
Known as the J750 Digital Anatomy 3D Printer, the device is designed to replicate the feel, responsiveness, and biomechanics of human anatomy in medical models, helping to improve surgical preparation and training in no-risk settings.
"We've embedded advanced slicing technology within our GrabCAD Print Software to drive the J750 Digital Anatomy 3D Printer. The whole premise behind it is that it fossilizes each slice, each jetted material, to replicate whatever anatomy or pathology they are trying to create. If we 3D print a bone, on the surface it's easy to make it look and feel like bone. Bone is not a solid material. There are cortical and cancellous layers inside the bone. What the fossil-based slicer does is it generates the micro- and- macrostructures of each anatomy based on what you would expect to see in the native tissue or bone."

Numed, a well established company in business since 1975 provides a wide range of service options including time & material service, PM only contracts, full service contracts, labor only contracts & system relocation. Call 800 96 Numed for more info.

Options such as cadavers, animal, traditional or virtual reality models all come with limitations. For instance, animal models only approximate human anatomy and can stir up ethical concerns, while cadaver models do not retain live-tissue feel and require a controlled environment.
The J750 Digital Anatomy 3D Printer can be used anywhere without specialized facilities and enables users to focus on specific pathologies. It also enables faster deployment of new medical devices to the market by offering design verification, validation, usability studies and failure analysis with its models, and supports shifts from time-based surgical training to proficiency-based evaluation.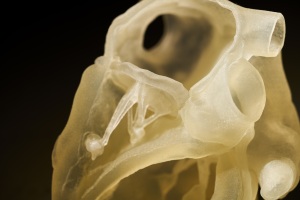 The system has already been used at several institutions, including The Jacobs Institute in Buffalo, NY where it re-created key vascular components for advanced training, and in doing so, re-created human physiological conditions that simulate actual clinical situations. Researchers can use this type of setting to study the use of new devices and assess their effectiveness before using them on patients. In addition, Bordeaux University Hospital in France recently integrated the J750 to 3D-print lifelike transparent and color models of patient kidneys for complex tumor removal cases.
Stratasys expects the system to be a hit among medical device companies and academic medical centers, which are under growing pressure to train clinicians outside of operating rooms to reduce risks to patients.
"The primary applications we're starting with in this product release are cardiac, vascular and orthopedic applications. This is just our first step into this. We are going to be launching additional applications each year for the next three to five years and in some cases, more than one."
In conjunction with the J750, Stratasys has also released new materials, TissueMatrix, GelMatrix and BoneMatrix for the re-creation of cardiac, vascular, and orthopedic 3D printing applications, as well as a Blood Vessel Cleaning Station for removing support material from inside 3D-printed blood vessels.