par
Sean Ruck
, Contributing Editor | July 05, 2019
From the July 2019 issue of HealthCare Business News magazine
HCB News: New York has struggled with a measles outbreak and the governor recently moved to end religious exemptions for immunizations — has Northern Westchester encountered any cases?
JS:
The U.S. is seeing the highest numbers of measles cases that it's seen in decades, and there is an outbreak in our region. We are on alert and are taking precautions to protect our patients, visitors and staff.
I believe we've seen one or two children in the hospital. We have a clinical staff member outside our emergency room 24 hours a day to assess people before they enter the building and reroute them if necessary. We're doing all of this out of an abundance of caution to protect everyone. We have to stay in a state of readiness because it's a dangerous situation.

Midwest Hand Surgery Auction Closing 5/26 at 8PM. Hologic Fluoroscan Insight-FD Mini C-Arm, Nuvo Dual-Lamp Surgical Lighting System W/Control Panel, Ritter M11 Ultraclave Automatic Sterilizer & More! 2 Day Women's Treatment Center Auction Coming Soon!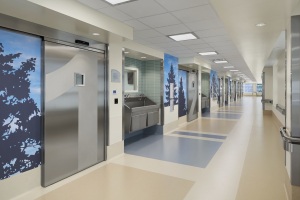 This is just one of the many instances in which being part of Northwell Health is a huge asset. Their emergency preparedness, the depth of resources and expertise in those areas is tremendous. They've been guiding us every step of the way on proper precautions and educational initiatives. It's also great because the next thing around the corner might be something we're not familiar with, but there will doubtlessly be someone at Northwell who is an expert who can react very quickly in advising us all.
Our facility is equipped and staff are well-trained. Our emergency department is state-of-the-art, with decontamination bays in the back. We're prepared to handle these situations.
HCB News: Is there any recent development you'd like to talk about?
JS:
The area where we've been developing the most is in the community health and the preventive sphere. We recently launched a Community Care Team, which is a multi-agency collaboration to improve care coordination among high-risk, high need populations. We're soon to open the Center for Healthy Living which is a community health navigation and education center. We have a President's Junior Leadership Council, comprising 52 area high school students who are currently focused on the health risks of overuse of smartphones and other digital devices. What does it mean to have your life commandeered by the device in your pocket? We'll be working with them for best practices and curriculum, which we'll deliver in schools and other community settings.