par
Sean Ruck
, Contributing Editor | February 15, 2019
From the January/February issue of HealthCare Business News magazine
HCB News: Is there any equipment currently on the radiology department's wish list?
DM:
I mentioned the nuclear medicine camera which is almost completed and the new CT scanner which isn't a completed project, but we've already selected it and it's in the process. On the wish list would be upgrading our MRI platform. That's probably still a couple of years out, but you have to plan that far ahead. We're doing really good things with our current MRI machine, but the core, the magnet, is 16 years old. We have state-of-the-art software we put on it to make the images, but it's probably time to do an upgrade over the next two to three years and that's on my wish list – to get a new magnet.
When the sales representatives from our vendors visit us, they're always remarking on what we're doing. For example, with our CT, they can't believe how many scans we're able to perform per year on one machine. Most radiology departments doing that volume of scans have two or three machines. The reason we're able to do what we do is that the hospital has been very supportive and smart with how they allocate their resources. So for instance, if you have people working as transporters, and people who help get the patients changed, and those helping with all the clerical work, this leaves the technologist and radiologist to do the things they're trained to do and not waste time more or less doing other tasks. We can have a very efficient use of that expensive equipment. That's an advantage of a smaller hospital. We can be nimble and change to be more efficient where we need to be.

Numed, a well established company in business since 1975 provides a wide range of service options including time & material service, PM only contracts, full service contracts, labor only contracts & system relocation. Call 800 96 Numed for more info.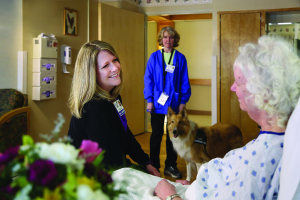 HCB News: What score would you give the radiology department on its interoperability with gathering data, speaking with the EMR, etc.?
DM:
I would give us an 8 ½ and improving. For me, personally, everything is at my fingertips. There's only one area of redundancy where I have to log again to look at something in the EMR if I'm at a particular place in a study, but that's more of a minor annoyance. It's still right there at my fingertips and we kind of solved that by having a separate little laptop that I log into next to the bigger workstations. The X-ray techs probably would say they have a little extra redundancy where they may have to put in some information more than once instead of it instantly populating across the field. That, too, is definitely getting better though. I know that recently we had an instance where the hospital put quite a bit of resources into solving an issue with an interface. We raised the issue and the hospital took it seriously and fixed it. There's always room to be better, but I'm pleased people are willing to make the effort.