par
Lisa Chamoff
, Contributing Reporter | May 22, 2017
From the May 2017 issue of HealthCare Business News magazine
Less than a year ago, the company introduced SafeNSound, which battles alarm fatigue by allowing clinicians to review a customized alarm summary, including statistics for each monitored patient, to help in determining appropriate alarm protocols.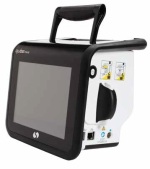 In May, the company will release its high-acuity Qube Mini monitor, for monitoring during patient transport. The Qube Mini will have an eight-inch screen and an integrated IV pole mount, which the company says allows clinicians to easily monitor what's happening with their patient throughout the trip.

Quest Imaging Solutions provides all major brands of surgical c-arms (new and refurbished) and carries a large inventory for purchase or rent. With over 20 years in the medical equipment business we can help you fulfill your equipment needs

All Spacelabs monitors are capable of utilizing the wireless accessory at an additional cost, which Robert Hoctor, vice president of global strategic marketing for Spacelabs, says allows patients to move around while their heart activity continues to be monitored.
"This patient area network eliminates the need for a traditional telemetry network and the costs associated with this type of deployment," Hoctor says. "The result is maximum flexibility to exercise patients with reduced risk of tripping hazards and clumsy equipment management."
Back to HCB News