par
Lisa Chamoff
, Contributing Reporter | April 26, 2021
From the April 2021 issue of HealthCare Business News magazine
"We've really taken a lot of effort to develop a system that can be used as a 2D system, but when needed, they can get the 3D images for confirmation and to use navigation systems," Strauch said. "We really wanted to focus on a product that you can use during any surgery but that you can use as a 3D system as well. I think we're going to see 3D become a bigger part of the C-arm market in the next five years."
Omega Medical Imaging
Over the last year, Omega Medical Imaging has been marketing its technology that utilizes AI to automatically collimate to the region of interest during interventional cases, reducing radiation exposure by up to 84 percent, according to the company.

Quest Imaging Solutions provides all major brands of surgical c-arms (new and refurbished) and carries a large inventory for purchase or rent. With over 20 years in the medical equipment business we can help you fulfill your equipment needs

This technology is used across Omega's line of interventional systems, but most specifically on its E-View.AI, a fixed C-arm designed for endoscopic procedures such as endoscopic retrograde cholangiopancreatography (ERCP).
The AI technology automatically detects the physician's region of interest while simultaneously reducing radiation exposure to patients, physicians and staff, said Dan Alred, marketing manager of Omega Medical Imaging.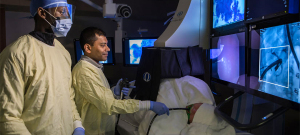 The new imaging modality takes all the existing best practices to lower radiation exposure in interventional labs and further reduces dose by up to 84 percent, without changing existing workflow or sacrificing image quality, according to Alred.
The company's target market is hospitals and medical centers that perform interventional procedures and are looking to protect their patients and staff.
"If you're working in these labs every day, incorporating lifesaving technologies such as this to lower your radiation exposure is a no brainer," Alred said.
Philips
In the third quarter of last year, Philips launched the next generation of its Azurion image-guided therapy platform, first released in 2017. It includes tableside control with a single touch screen for the system and all applications.
In the same quarter, the company released the Azurion Lung Edition, a tailored version of the platform that includes visualization and workflow tools to treat early-stage lung cancer with bronchial microwave ablation.
"The treatment involves navigation through the airways without an incision and Azurion provides a better platform for imaging," said Nicole Hermkens, marketing leader for image-guided therapy systems at Philips.