PITTSBURGH--Carnegie Mellon University's Assistant Professor of Electrical and Computer Engineering (ECE) Maysam Chamanzar and ECE Ph.D. student Matteo Giuseppe Scopelliti today published research that introduces a novel technique which uses ultrasound to noninvasively take optical images through a turbid medium such as biological tissue to image body's organs. This new method has the potential to eliminate the need for invasive visual exams using endoscopic cameras.
In other words: one day, scopes may no longer need to be inserted into the body, such as down the throat or under the skin, to reach the stomach, brain, or any other organs for examination.
Story Continues Below Advertisement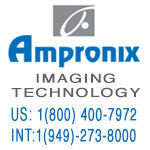 Special-Pricing Available on Medical Displays, Patient Monitors, Recorders, Printers, Media, Ultrasound Machines, and Cameras.This includes Top Brands such as SONY, BARCO, NDS, NEC, LG, EDAN, EIZO, ELO, FSN, PANASONIC, MITSUBISHI, OLYMPUS, & WIDE.

Endoscopic imaging, or using cameras inserted directly inside the body's organs to investigate symptoms, is an invasive procedure used to examine and diagnose symptoms of deep tissue disease. Endoscopic imagers, or cameras on the end of catheter tubes or wires, are usually implanted through a medical procedure or surgery in order to reach the body's deep tissues, but Chamanzar's new technique provides a completely non-surgical and noninvasive alternative.
The lab's paper published in Light: Science and Applications, a journal published by Springer Nature, shows that they can use ultrasound to create a virtual "lens" within the body, rather than implanting a physical lens. By using ultrasonic wave patterns, the researchers can effectively "focus" light within the tissue, which allows them to take images never before accessible through noninvasive means.
Biological tissue is able to block most light, especially light in the visible range of the optical spectrum. Therefore, current optical imaging methods cannot use light to access deep tissue from the surface. Chamanzar's lab, however, has used noninvasive ultrasound to induce more transparency to enable more penetration of light through turbid media, such as biological tissue.
"Being able to relay images from organs such as the brain without the need to insert physical optical components will provide an important alternative to implanting invasive endoscopes in the body," says Chamanzar. "We used ultrasound waves to sculpt a virtual optical relay lens within a given target medium, which for example, can be biological tissue. Therefore, the tissue is turned into a lens that helps us capture and relay the images of deeper structures. This method can revolutionize the field of biomedical imaging."
| | | | |
| --- | --- | --- | --- |
| | Pages: 1 - 2 - 3 | >> | |