ATLANTA, Jan. 8, 2019 /PRNewswire/ -- Ingenious Med, the leading charge capture and practice performance analytics provider for health systems, hospitals, and physician groups, announced today new survey findings on how charge capture is conducted and perceived at acute-care organizations.
Ingenious Med commissioned the survey of healthcare leaders who oversee their organization's revenue cycle to determine market trends around charge capture, benchmark performance, and understand organizational perceptions.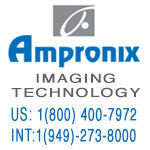 Special-Pricing Available on Medical Displays, Patient Monitors, Recorders, Printers, Media, Ultrasound Machines, and Cameras.This includes Top Brands such as SONY, BARCO, NDS, NEC, LG, EDAN, EIZO, ELO, FSN, PANASONIC, MITSUBISHI, OLYMPUS, & WIDE.

Key findings include:
Charge capture is critical for success but is not a frequent agenda item
Over three-quarters (78%) of respondents characterize charge capture as "essential" to their organization's success. Twenty-one percent characterize it as useful, and 1 percent say it's optional.
Despite this, leadership teams at 40 percent of organizations talk about charge capture once a month or less. One-third (32%) discuss it weekly, while 18 percent discuss it twice a month, 8 percent discuss it daily, and 2 percent never discuss it.
EHR solutions are the default, and they are not well-liked
Most healthcare organizations (84%), rely at least partly on their EMR/EHR systems for charge capture. Half (50%) use it exclusively as their charge capture solution.
Just over a quarter (28%) use electronic, standalone solutions as part of their charge capture mix, while 27% use paper charge capture.
When asked how likely they are to recommend their current charge capture solution, using the Net Promoter Score methodology, only 10 percent of respondents are promoters.
More than half (52%) are detractors.
While doctors are held slightly more responsible for charge capture than coders, coders spend significant time tracking down the information they need from doctors.
Two in five (40%) say the doctor and the coder should be equally responsible for accurately capturing charges. Nineteen percent believe the responsibility rests more on the coder than the doctor, while almost a third (31%) say the doctor should be held more responsible than the coder.
Some 6 percent say the doctor should be exclusively responsible, while 4 percent say the coder should be exclusively responsible.
More than half (53%) say their coding department spends between 10-25 percent of their time tracking down information from physicians. Another 12 percent report their coders spend upwards of a quarter of their time on these tasks. Twenty-eight percent say their coders spend less than 10% of their time tracking down information from physicians, and 7 percent did not know.