If you read my blog last week you will remember that my "gut" told me that attendance was up at ECR. Well it turns out that it was. More attendance, more exhibitors and more clinical presentations.
It was noteworthy to me that there were product announcements. Normally this takes place at RSNA but it's my belief that because it's harder to obtain a visa for the United States that more companies are relying on ECR to make product announcements. In a way it's like the U.S. is placing a tariff on customers.
GE Healthcare introduced its new
LOGIQ E10 high-end ultrasound system
, which offers 48x the conventional data throughput and 10x the processing power of conventional systems. It also utilizes some of the technology that is used in self-driving cars.

Numed, a well established company in business since 1975 provides a wide range of service options including time & material service, PM only contracts, full service contracts, labor only contracts & system relocation. Call 800 96 Numed for more info.

Philips introduced a new
3T MR called Ingenia Elition 3T
that also offers major enhancements to workflow. The system can reportedly complete a scan in half the time that is usually required so hospitals can move patients through the exam faster.
Canon had a good sized booth with a lot of traffic. Now that Canon and Toshiba are one, people seem to be paying more attention to the new combined company.
Canon plans to invest in mobile MR. This is good news for trailer manufacturers.
Fusion imaging in ultrasound was a hot topic. This is where you combine CT and MR images into an ultrasound study. I saw demos for the GE, Philips and Siemens offerings, all very cool. This technology will make for better diagnosis.
Every 5th person it seems brought up
the Siemens IPO
. Insiders wonder if the new company will change and how.
Another hot topic of discussion were CT tubes and at the center of that discussion was Dunlee. If you follow me you know that I was nostalgic when I learned last year that Dunlee was closing its Aurora, IL facility. I was afraid that this action marked the end of Dunlee as well as the end of a major source of CT Tubes.
I was pleasantly surprised that I was wrong. The Dunlee booth at the show was twice as big as last year and not only was Dunlee offering the same CT replacement tubes as before (I was afraid that Dunlee's DA 135, DA 165 and Akron tubes were history but they are not), Dunlee has expanded its offerings to include CT detector arrays, MRI magnets and RF amplifiers, generators and even 3D printing. Their booth was on fire.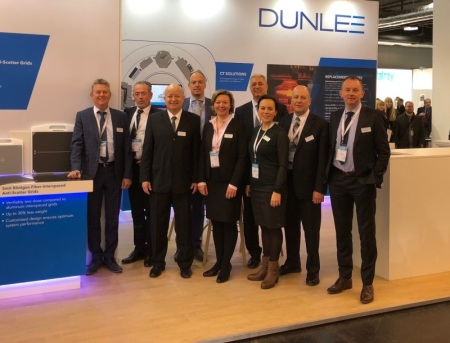 CT replacement tubes are crucial for ISO and in-house service groups and without an independent player it would be much harder for in-house/ISOs.
If you read our news you also know that
Philips sold the Aurora plant to Chronos Imaging
and it will be Chronos that will take over manufacturing of the replacement tubes for Dunlee under a long term contract. Chronos had some people at the show and they were very busy entertaining questions from people in the industry.
I have to admit that the Philips Board had a great plan. A plan that is good for the market and for Dunlee. I am so glad that Dunlee is here to stay.
Phil is a member of AHRA, HFMA, AAMI and the Cryogenic Society of America. He has contributed to a number of magazines and journals and has addressed trade groups.
Phil's proudest achievement is that he has been happily married to his wife Barbara since 1989, who helped him found DOTmed in 1998.