From the April 2017 issue of HealthCare Business News magazine
Corindus Robotic Equipment / CorPath GRX
CorPath GRX is the second generation robotic-assisted PCI system cleared by the FDA, adding procedural control and workflow enhancements to the platform. The system allows interventional cardiologists simultaneous and independent control of guide catheters, guidewires and balloon/stent catheters via a control console in a radiation-protected workstation. In addition to protecting cath lab teams, CorPath GRX offers robotic precision in the movement and positioning of devices to potentially improve patient outcomes.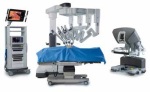 Intuitive Surgical / da Vinci Xi® Surgical System
Powered by state-of-the-art technology, da Vinci Surgical Systems scale, filter and seamlessly translate surgeon hand motions into more precise movements. By providing surgeons with superior visualization, dexterity, precision and ergonomic comfort, da Vinci Surgical Systems make it possible for skilled surgeons to perform robotic-assisted, minimally invasive procedures. The fourth generation system, the da Vinci Xi Surgical System, is a boom-mounted system, offering four-quadrant access optimized for multi-quadrant surgery. Magnified 3-D HD visualization, along with wristed and advanced instrumentation, enables precise dissection and reconstruction. Surgical specialty clearances for the System include urology, gynecology, cardiothoracic and general surgery.
Mazor Robotics / Mazor X System
The Mazor X System is the core of the Surgical Assurance Platform by Mazor Robotics: An innovative set of planning and guidance tools indicated for implant and instrument positioning in spine surgery. Mazor X consists of three integrated processes: preoperative analytics; intraoperative guidance; and intraoperative verification. Mazor Robotics core technology has been used in over 23,000 procedures, assisting in the placement of over 160,000 implants.