par
Diana Bradley
, Staff Writer | August 13, 2012
From the August 2012 issue of HealthCare Business News magazine
When crying wolf is warranted
Without the proper funding, a health care facility can only be so prepared for disaster. Depending on the area and the needs, facilities can qualify for emergency preparedness funding, but often aren't aware of that until an event occurs.
"After Katrina a lot of federal funds were pushed down to this region for our natural disaster type responses," says Yarbrough. "But when the sky is blue and everything is good in Oz, how do I keep that awareness level in front of these funding people without seeming like the person who cries wolf?"

Quest Imaging Solutions provides all major brands of surgical c-arms (new and refurbished) and carries a large inventory for purchase or rent. With over 20 years in the medical equipment business we can help you fulfill your equipment needs

Certain disasters, however, go beyond typical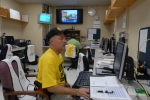 emergency preparedness funding.
"Since 9/11, we have had an increase in grant money being available for hospitals to further emergency management efforts," notes Susan McLaughlin, managing director for MSL Healthcare Consulting, Inc.
While underfunding can be a problem, understaffing is an acute pain during disaster, with employees not being able to make it to work, or not enough staff available to man the task at hand.
"If we know a blizzard is coming, staff might elect to spend the night at the hospital before their shift begins," says NYU Langone's Stevens. "We also have a family care plan, which aids staff to document who will take care of their kids, pets, or elderly relatives when they are at work."
Most states will also have a rich source of medical personnel that can be active during a disaster. These members usually have pre-registered with bodies including Volunteer Organizations Active in Disasters and Medical Reserve Corps, which can be activated and members deployed where needed.
Complications with internal and external communications during an emergency are also something to keep an eye on. Most facilities use some form of electronic device to alert and notify staff members of internal or external emergencies. The standard in emergency management is to have redundant communication plans and devices. Redundancy is necessary to ensure uninterrupted communication when responding to disasters, according to Williams.