par
Joanna Padovano
, Reporter | February 20, 2012
From the January/February issue of HealthCare Business News magazine
The popularity of PACS has skyrocketed in recent years, thanks to increased digitization in health care and improvements that have made communication between different modalities easier.
"PACS has really become the standard of care," says Keith Hentel, vice chairman of clinical operations for the radiology department of Weill Cornell Medical College/New York Presbyterian Hospital, which relies on PACS to manage its day-to-day operations.
First discussed by radiologists in the early 1980s and introduced by the first hospitals in the mid-1990s, PACS has since become commonplace.

Special-Pricing Available on Medical Displays, Patient Monitors, Recorders, Printers, Media, Ultrasound Machines, and Cameras.This includes Top Brands such as SONY, BARCO, NDS, NEC, LG, EDAN, EIZO, ELO, FSN, PANASONIC, MITSUBISHI, OLYMPUS, & WIDE.

According to "Picture Archiving and Communications Systems: A 2000-2008 Study" conducted by the Dorenfest Institute for Health Information, through the HIMSS Foundation, in 2000 only 342 hospitals had PACS for at least one modality. By the end of 2008, adoption had increased dramatically, with 3,928 hospitals, or 76 percent, having PACS for at least one system. The numbers have continued to increase.
But the industry is changing. One of the major trends in the sector has been the growing demand for cloud-based solutions. Others include the rising prevalence of Vendor Neutral Archives and mobile applications.
Sector overview
The global PACS market was valued at approximately $2.5 billion in 2010 and is expected to reach $5 billion by 2016, according to the February 2012 MarketsandMarkets report titled, "Picture Archiving and Communications System (PACS) and Radiology Information Systems (RIS) Market (2011-2016)." That same report estimates that the global market for RIS, used to store, manipulate and distribute radiology-related patient data and images, was valued at $2.3 billion in 2010 and will grow to $4.5 billion by 2016.
What's driving the torrid growth of the PACS market? Some analysts think the answer lies in the clouds.
Increased interest in cloud-based solutions
A "cloud" is a virtual storage place for digital files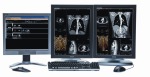 that enables access from any geographic location, along with an absence of extensive implementation or integration time — a major plus, according to Rick Jennings, chief technology officer of Virtual Radiologic, a teleradiology practice that offers a cloud-based virtual PACS and radiology workflow system called the vRad PACS technology platform.
"Another key feature is there's no technology obsolescence, there's no concept of an upgrade or a refresh; every time you log in to the platform, the latest software is made available," Jennings adds.