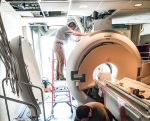 The benefits of professional independent service
August 02, 2021
by
John R. Fischer
, Senior Reporter
There is a common misconception in healthcare that if a device is not serviced by the original equipment manufacturer (OEM), then it's not serviced correctly. The reality is that most types of medical equipment can be maintained and repaired by a robust and competitive range of independent service organizations (ISOs) that can offer unique advantages due to their smaller footprint and singular focus on servicing.

Ultimately, this misconception contributes to wasteful spending in healthcare. Allan Klotsche, president and CEO of Alpha Source Group, a leading U.S.-based ISO that does business in more than 74 countries around the world, says hospitals overlooking non-OEM service options may be paying tens of thousands of dollars for a service that an independent can professionally perform for substantially less.

"Our engineers undergo a rigorous training program on similar equipment that we maintain in-house," he told HCB News. "This allows us to be proficient with the equipment and test / repair parts on site that also are substantially lower in cost than original OEM parts."

When original equipment warranties expire, hospitals need to decide what they will do for ongoing service coverage. We sat down with some of the leading independent service entities to discuss the advantages their companies offer, how their offerings compare with those of the manufacturers, and tips for providers seeking to get the most out of their service contract agreements.

A singular focus on service and maintenance
Many independent service organizations specialize in maintaining multiple, diverse systems designed by different manufacturers. They can also often provide a wider range of services, provide vendor-neutral advice and have more flexibility to customize agreements to meet individual needs, says Rick Staab, CHTM, CEO of The InterMed Group, a boutique provider of health technology management services. "We provide the information for capital equipment purchasing needs based on our clients' specific budgetary and facility needs. We don't push a particular product. We treat this as a service to our customers and find what we believe is best and safest for their unique needs."

Some ISOs even offer additional human labor, which can help with staffing shortages and save hospitals on the cost of retaining biomeds capable of servicing all equipment models, according to Bettyann Bird, senior vice president for Agiliti's strategy and solution management division. "Rather than require costly contracts for full-time biomedical technicians on location, we provide flexible staffing options where technicians are scheduled for on-demand support, which can be mobilized from our more than 100 service centers across the country."

Non-OEMs can help in-house teams, whether it be training them or performing certain tasks to allow a hospital's biomeds to focus on bigger service and repair projects considered "mission-critical" for hospital operations, says Brandon Anaya, VP of sales and marketing for Tenacore.

"With highly trained in-house programs, support is often needed for higher volume devices and less complex repairs. This is because there may not be a lack of capabilities as much as there is a lack of bandwidth," he said. "The opposite may be true where a highly trained in-house program is focused on a large-scale preventive maintenance (PM) project and our assistance is temporarily required for more complex repairs. Sometimes these shops prefer to continue doing more complex repairs and outsource the large-scale PM projects to companies that are willing to travel onsite like us."

In addition to traditional offerings, many ISOs utilize remote monitoring and AI capabilities to detect problems ahead of time to support preventive maintenance. "By embracing these technologies, it allows the customer to get their issues resolved quicker and results in less of an impact for their facility," said Shelby Lemler, VP of operations for MXR Imaging, a large independent servicer of imaging technology. "Since we have seen the problem and the equipment, we are better prepared to get the issue resolved."

Finding the right partner
Brand new technology will rarely be serviced by anyone other than the manufacturer, but there are other scenarios that may call for OEM support too. For example, error codes in medical device software. Still, the value proposition of independent service is applicable to the vast majority of technology on the market.

Ted Lucidi, CBET, clinical marketing and commercial specialist for Innovatus, says it is important for non-OEMs to be upfront about what they can and cannot do, to save hospitals time and money. "In some instances, an immediate, high priority, pressing need forces the need for OEM service."

Even in situations that require OEM assistance, ISOs and third-parties may still be able to help. For example, TRIMEDX, an independent clinical asset management company, has established close ties and partnerships with OEMs and can connect providers to them quickly, if needed.

"Through OEMs relationships, TRIMEDX is able to obtain service whether it be under warranty, on a material basis or even under service contracts. The majority of our parts come through these OEM relationships, as well as our technical training and support," said Robert Moorey, senior vice president of customer delivery for TRIMEDX's east operations.

Another way to keep the manufacturers close by while circumventing a traditional OEM service contract is by working with the multi-vendor service branch of an OEM. Dawn Bruce, services and solutions delivery leader of Philips Canada, works directly with Philips' MVS unit and says such entities offer providers access to both OEM expertise at an affordable rate and at the same time, professionals who are trained to service more than just the solutions designed by the OEM they work for.

"We work with healthcare providers to understand and solve complex challenges and create meaningful innovation that drives healthcare forward, rather than taking a sole equipment or out of the box approach," she said.

Contract negotiations
The best way to maximize any service contract agreement is for hospitals and healthcare systems to be upfront about what they expect out of their service and more importantly, what their business objectives are. This, according to Moorey, enables service providers to help providers meet short-term and long-term goals better.

"They need to be honest about the resources they can commit to their departments," he said. "If they know they need to repurpose those valuable resources to grow on the clinical side then they're going to need a strong partner that can come in alongside them and scale up as they grow and change as well."

Healthcare providers also must be willing to make concessions. For instance, the more control one seeks, the less savings and opportunities they will typically find. In contrast, those who go for an agreement with the lowest price may be limited in the services they can access.

"Everyone operates a little differently, and for us to provide the best solutions, we must have a good understanding of the business flow as well as the customer's risk tolerance (unique to each facility, budgetary risk tolerance, usually)," said InterMed's Staab. "Often this requires us to act as a consultant to our partners so that together we can yield the best results."

Alpha Source's Klotsche says, for quick and efficient service, in-house teams should figure out what they can handle and what is best left to the service provider. "People think they know how to repair a solution, but sometimes we find they create more of a problem in trying to solve this on their own. When we have a hospital or a partner who has a well-trained staff, that's a dream for us, because a well-trained staff is someone who knows what they can do and what they shouldn't do."

He adds that all relevant stakeholders for a hospital or healthcare system should be consulted on service partner decision-making. They range from hospital executives to financial leaders to lab technicians.

"If someone comes in and throws a bargain-based price on the table but it's limited in what it covers, it's often frustrating for the lab technicians who may be left thinking, 'this isn't going to take care of our equipment the way we need it taken care of'," Klotsche added.

Choosing to go with an independent service provider can save hospitals both the costs and headaches that come with juggling multiple service agreements with different OEMs. At the same time, it can ensure they receive the same quality service for their short- and long-term needs, and allows them to operate efficiently as both a healthcare provider and business. The key is doing the homework to figure the perfect match for a given facility's unique needs.