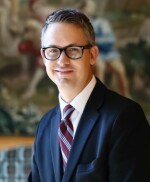 The future of anesthesiology (and how to thrive)
June 14, 2021
By Randall D. Moore

We are currently experiencing the most disruptive period in the history of healthcare, and this is presenting unprecedented challenges and opportunities for the specialty of anesthesiology. Now, perhaps more than ever, healthcare economics are driving change in the anesthesia marketplace in ways that have long been predicted and are obviously intensified by the most significant accelerant of change in our lifetime—the COVID-19 pandemic. The healthcare arena is evolving quickly, and anesthesia clinicians and business leaders who are unprepared may find themselves on the wrong end of this disruption.

Three major trends are driving this change, and it is important to understand why they are happening and how this will translate to opportunity or threat in the dynamic healthcare ecosystem.

Declining hospital margins
Hospital and health system operating margins, which were already declining pre-COVID-19, and have been, in many cases, decimated during the pandemic, will continue to be squeezed for the foreseeable future. Macro-trends, including declining reimbursement, changing payer mix, increasing costs, and patient migration to the outpatient setting, show no signs of abatement in the near or mid-term horizon. Increasingly, downward economic pressure on hospitals will result in hospital CEOs eyeing anesthesiology services, which are typically the number one or number two cost centers, as an opportunity to cut costs. Therefore, as I mention a bit later, it would be wise to understand the challenges and opportunities this presents in the anesthesia marketplace and respond accordingly.

Increased churn in anesthesia contracts
Many hospitals and health systems are already scrutinizing the subsidies they pay for anesthesia services. This trend will undoubtedly accelerate and result in a significant uptick of contract churn as hospital executives look to the market for more cost-effective alternatives. Anesthesia providers, including anesthesia management companies (AMCs), will have to adapt their practice and business models, or they will increasingly find more agile and progressive companies eating their lunch. This, I believe, is why we are seeing small and mid-size AMCs carving into the market share of the big box AMCs. Again, AMCs, especially larger AMCs, must adopt the tactics of the smaller AMCs or face a bleak long-term future.

The proliferation of the collaborative anesthesia model
A massive shift is underway from the restrictive anesthesia practice model to a more collaborative model, where all anesthesiology professionals practice to the top of their education, training, and licensure. The utilization of the QZ billing modifier, which indicates anesthesia care delivered by an unsupervised Certified Registered Nurse Anesthetist (CRNA), is exploding. This represents, in my opinion, a clear indication of where practice and billing models are going in this country. The drivers for this shift are clear: The market is rewarding practice models that result in increased perioperative efficiency, decreased cost, avoidance of unintentional billing non-compliance, and preservation of quality patient outcomes. The collaborative model, if used effectively, creates a cost leadership competitive advantage for companies that have the foresight to use it. The inverse of this is true as well – companies, groups, and anesthesia departments that use inefficient models that do not maximize the impact of physicians and CRNAs practicing to the top of their expertise, are going to find themselves at a competitive disadvantage in contract negotiations and the provider recruitment arms race.

So, in summary, the future of anesthesiology is here now. These trends have been evolving for a long time and should not surprise anyone. In fact, it is pretty much just common sense and basic economic theory. In a marketplace where revenue is inelastic, the players must compete on cost without sacrificing quality. The companies that understand this and respond accordingly will survive and thrive. Everyone else will find themselves in a clear strategic disadvantage. Here are some tips on how to succeed in this new environment:

1. With the current provider supply/demand imbalance at something like 10%, recruiting and retaining clinical talent should be a top priority. Therefore, creating a dynamic and purpose-driven culture that values the contributions of these professional is imperative.
2. Make major investments in the development of your clinical leadership. With the intensification of competition for contracts and talent, having clinicians with leadership acumen--especially diplomacy and relationship skills--is critical to winning and maintaining contracts. Beyond this, ensure that you have clinical talent, both physician and CRNA, in high-profile and high-impact roles within the organization. These drives culture as well as better clinical and business decisions.
3. Revaluate and evolve your practice models. The future of anesthesiology will be providers, both CRNA and physician, practicing at the top of their license. The sooner this is realized, the better positioned you are to succeed.
4. Move fast – the ground is shifting underneath your feet.

About the author: Randall D. Moore, DNP, CRNA, MBA, is the CEO of the American Association of Nurse Anesthetists.