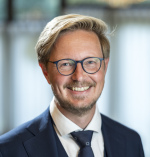 Three ways to drive sustainability in healthcare
May 07, 2021
By Robert Metzke

Climate change is one of the greatest threats to our wellbeing, yet the industry that is devoted to keeping us healthy is also still one of the largest contributors to the problem. If the healthcare sector was a country, it would be the fifth-largest emitter of greenhouse gases, accounting for around 4% of global CO2 emissions, which is more than aviation or the shipping industry. While many in the healthcare industry have started to turn to renewable energy sources, that is only one piece of the puzzle, and to some extent, is the 'low hanging fruit' of sustainability. Solving issues such as reducing emissions across entire patient pathways or supply chains and limit the waste of natural resources are far more challenging. So, what else can the healthcare industry do to realize a world that is not limited to being healthy or sustainable, but one that is both healthy and sustainable?

For any health technology company who aims to improve patient care, embedding sustainability into one's innovation and mitigating climate change are critical to fulfilling its purpose. As one of the first health technology companies in the world to become fully carbon-neutral in its operations, we at Philips hope to inspire others in the industry to adopt three approaches that are helping us practice sustainability: prioritizing EcoDesign in innovation, dematerializing healthcare wherever possible through digital solutions, and developing outcome-based solutions.

Why sustainability in healthcare matters
Climate change and human health are intrinsically linked. Many of the pollutants emitted by the healthcare industry are themselves harmful to human health, and their contribution to global warming could pose a far greater long-term health threat. Even today's modest 1.0⁰C (1.8⁰F) warming above pre-industrial levels is causing an increase in severe weather events, such as life-threatening heatwaves, in many parts of the world. Yet, according to the IPCC Special Report: Global Warming of 1.5°C, "limiting global warming to 1.5°C instead of 2°C could result in around 420 million fewer people being frequently exposed to extreme heatwaves."

Practicing sustainability is not just good for the planet, it's good for our health – so much so that the World Health Organization (WHO) called the Paris Climate Treaty possibly the most important healthcare treaty of the 21st century. The necessary reduction in CO₂ emissions from fossil fuels and short-lived climate pollutants (SLCPs) would also prevent millions of deaths from respiratory disease. Eating less high-carbon-footprint meat and more fruit and vegetables would result in reductions in heart disease, obesity, diabetes and cancer. Keeping global warming below 2°C would mean less chance of creating the conditions in which highly infectious zoonotic diseases such as COVID-19 can gain a foothold and reap havoc.

Ensuring healthy lives and promoting well-being for all not only means providing better access to care, it also means driving down the cost of care. In the developed world, due to the aging population and corresponding increase in chronic disease, healthcare costs are rising at an unsustainable rate. In the U.S. for example, it amounted to around 17% of GDP in 2018 and continues to rise faster than GDP growth. Yet, as recently as 2017, 50% of the world's population still lacked access to essential healthcare services. The situation is compounded by the fact that populations that can afford high quality healthcare consume a disproportionate amount of the Earth's resources. At the current rate, we will need 1.6 Earths to sustain current levels of consumption. We only have one, so we not only need to increase access to care and reduce the cost of care, we also need to embrace circular economy business models that allow us to deliver healthcare without overconsuming finite resources.

Three steps toward low-carbon, sustainable healthcare (for all)
Health technology companies not only need to drive sustainability in their own innovation, but also partner with customers to co-create solutions that reduce emissions across entire patient pathway and along supply chains. This includes adopting circular models for materials to maximize the energy-efficient use of medical equipment and optimize its lifecycle value. Here are three ways to drive sustainable operations:

Use 100% renewable energy & apply EcoDesign at scale: When setting sustainability goals, organizations should consider where they can offset unavoidable CO₂ emissions by investing in renewable energy sources elsewhere. For example, Philips has set itself the ambitious goal of becoming fully carbon-neutral by 2025, reducing CO₂ emissions throughout its value chain in accordance with the Paris Agreement 1.5°C global warming scenario, a target it is well on the way to achieving. The company is already carbon neutral in its operations, and where CO₂ emissions are unavoidable, it compensates them by financing projects with additional health benefits in developing regions of the world. In the U.S. and the Netherlands, Philips powers its operations via consortium-led bulk-purchase renewable energy agreements with local windfarms and virtual Power Purchase Agreements to help fund new windfarm installations, such the one in the Mutkalampi municipality in Finland. Organizations can also complement their own renewable energy initiatives with energy savings driven by reduced business travel, electrification of the company's vehicle fleet, and sea- and rail-based logistics rather than air freight.

In order to really move the needle in a commitment to making the world healthier and more sustainable, organizations need to apply EcoDesign principles to develop products that are more resource and energy efficient. For example, Philips' MR Ingenia Ambition scanner reduces the amount of helium needed to supercool its magnet from the 1500 liters typical of a conventional MR machine to a mere 7 liters. EcoDesign also reduces the total weight of the machine by 900kg, resulting in less stringent installation requirements that facilitate greater access to high quality MR imaging. Here, it is key to think beyond to the health tech product to understand the end-to-end environmental impact in the context of a patient journey, a topic I will come back to when discussing outcome-based solutions.

Digitize and virtualize healthcare: The second thing the industry can do is to adopt truly circular models, including digitizing and virtualizing healthcare wherever possible. Digitizing care not only improves resource allocation and access to care, it also enhances clinical decision making and facilitates networks of care in which knowledge, capabilities and resources can be shared globally at scale. For example, Philips' eICU program allows critical care specialists stationed in Australia to work during the daytime monitoring patients in U.S. ICUs overnight. Virtual models of care allow us to improve the quality and efficiency of care, reducing waste. Telehealth models that enable care at home also take away the need for traveling to and from the hospital for regular consults with the doctor or nurse.

Outcome-based healthcare solutions: Thirdly, the industry can embrace value- and outcome-based healthcare models that utilize existing resources in better ways, offering healthcare organizations total solutions rather than single transaction product purchases. For example, offering diagnostic imaging as a service rather than simply selling a scanner, with remuneration directly linked to patient outcomes. Through long-term strategic managed-service partnerships with leading hospitals, it's a model that Philips successfully pioneered as far back as 2014. By retaining ownership of the installed equipment base, Philips is better able to repurpose and recycle it when needed and replace it with the latest state-of-the-art solutions, keeping its customers at the forefront of patient care. It is critical health technology organizations wok with their clinical partners to systematically reduce the environmental impact per treatment and align improved clinical outcomes and patient experiences (e.g., short stays in hospitals, lower readmission rates, and more) with much lower environmental burdens.

Working together to create a sustainable future
For the generations to come, we need a healthy and sustainable world that offers affordable quality healthcare for all within the ecological carrying capacity of our one planet. While absolutely achievable, it will require a massive collective effort, not only on the part of the healthcare industry, but by public and private sector organizations in every corner of the world's economy. We invite C-suites everywhere to join initiatives such as the Platform for Accelerating the Circular Economy and the Capital Equipment Coalition, which recently expanded to North America, the World Economic Forum's Global Plastic Action Partnership, and RE100 — making the industry equivalent of UN Framework Convention on Climate Change (UNFCCC) Nationally Determined Contributions (NDCs) — to ensure that a healthy sustainable world is brought to reality.

About the author: Robert Metzke is the global head of sustainability at Philips.