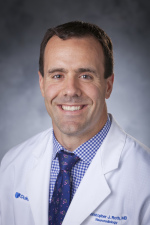 Getting prepared for the biggest event in imaging informatics
June 04, 2021
by
Sean Ruck
, Contributing Editor
SIIM's annual meeting is coming up on its second anniversary of navigating a worldwide pandemic. The timing of shutdowns last time meant the organization was one of the earlier key societies to have to figure things out. One year later, the pandemic is still with us but SIIM has had a year to plan and evolve its offerings. HealthCare Business News spoke with Dr. Christopher Roth, associate professor of radiology, vice chair Information Technology and Clinical Informatics, director of Imaging Informatics Strategy at Duke Health and SIIM Annual Meeting committee chair to learn more about his background, the latest on the society and what to expect at this year's meeting.

HealthCare Business News: What inspired you to go into a career in healthcare?
Chris Roth: I was fortunate to play football in college and was on some really terrific football teams. I played at the University of Michigan. I had all the best healthcare available to me. We won the national championship in 1997, had two Big 10 championships — it was awesome, absolutely awesome. But I had a series of injuries — actually, my personal statement for radiology residency listed all my injuries — and I wound up seeing lots of my own imaging. Now, if you play football and go into healthcare, most players go into orthopedic surgery because that's what they're familiar with from all their injuries, but I took an interest in my own brain since I didn't play my senior year of football at Michigan because of concussions. After getting my last concussion and they knew I was going to medical school, they said I was done. They took my equipment away from me.

HCB News: How many concussions did you end up with?
CR: It's hard to know because people didn't really track that stuff back then. It was a different era. Knowing what I know now, it's at least five. Some worse than others. The second to last one, I was actually biking from practice to an organic chemistry exam and got hit on my bike — not wearing a helmet of course — by one of our academic advisors who was driving an F150.
The result of all of those injuries is that I wound up seeing not just a bunch of radiographic fractures, but my own brain on MR and CT. I chose radiology because of the fascination I had with the imaging.

The choice was beneficial because I got to see lots of patients at once and I felt like I could help lots of patients in a smaller period of time. I went into informatics because if I was trying to help as many people as I could, I realized quality improvement needed data. And data requires understanding to do good things with it.

HCB News: How long have you been a member of SIIM?
CR: Since around 2013 or 2014. In 2013 we went live with our electronic health record. I dabbled a little bit getting to know the society in 2012, but really in earnest trying to get myself involved in learning about the space in 2013 and 2014.

HCB News: And what attracted you to the society?
CR: It was a few things. Healthcare is a big world. Best practice sharing is a big part of what I try to do and what I have to rely on to provide the best care for my patients. You get that through the annual meeting, through the publications, through the webinars. I remember going through my electronic healthcare records rollout and I was pretty adamant about trying to get information about how university X was doing it, because I knew they were doing a good job from what I was reading. Obviously the EHRs and imaging companies couldn't tell me much because of IP reasons… and it's not great to steal everyone's secret sauce, but I wanted to learn and provide the best for my patients so I was pretty insistent. So SIIM was about the community of people sharing, "here's how we do this," and letting me hear what's working to bring those ideas back to best take care of my patients.

HCB News: Who should consider joining the society?
CR: I mentioned healthcare is a big space. Imaging and informatics are big, complicated, messy parts of that big space. the people who should consider joining are those involved in imaging informatics in any form: clinical, industry, hospital system support, research and scientists. There are a few groups who we in SIIM believe should especially consider joining. Imaging subspecialties who aren't as familiar with best practices of imaging — so dermatology, GI, ophthalmology, pathology, others — those are the specialties that I believe can learn a lot from the progress that's been made and will find themselves in a community of people where we're all trying to understand how to best care for patients. Electronic health records being ubiquitous and such a large part of day-to-day activities across those societies now, we would like to see more participation from the EHRs. There is a large imaging community outside North America who can connect with us more easily now than ever before. For me, the people I would like to reach out to are those imaging informatics professionals, those physicians, industry inventor product partners who can move the needle.

HCB News: Would you say there's value for C-suite executives to be members?
CR: Whether anyone likes it or not, imaging is a big driver of the bottom line of the hospital in a fee-for-service positive way now. And as population-based payment capitation gains traction, if we're all looking at number of covered lives in a catchment area as a part of our bottom line, imaging might be a negative pressure on the bottom line. So those people who are in healthcare leadership positions can really understand that big component of the bottom line when they are involved and they see some of the 30,000-feet things we're doing. That this is to say nothing about the clear value of diagnostic and documentary imaging in the care of those patients. If nothing else, they would recognize the importance of it. They may not get into the weeds, but they may understand just enough to be able to drive strategy and implementation of their space.

HCB News: When we spoke in 2019, you described some of the fundamental hurdles preventing interoperability between imaging and EHRs. Has there been any meaningful progress on that front?
CR: The answer to that is yes — but it's been heterogeneous. The EHRs are good at what they do, but they need to account for all different kinds of people asking for things. So the way the EHRs do it is that they get a bunch of thought leadership together, they ask us to prioritize, ask what the most important things are we should be working with and why that is and really try to understand. There has been quite a bit of progress over the last year in telehealth and providing patients their information because of the 21st Century Cures Act. At my site and some others we've had our images available in the EHR portal for about two years and patients are starting to engage in it. Are there still some major hurdles? Of course. There are still big disconnects in integrating visible light imaging and video in the EHR especially. There's always more interest than there is the ability to make things happen. It takes a while to develop things and deploy them.

HCB News: The annual meeting will be all virtual this year?
CR: It will be. One of SIIM's important strategic planning efforts is around globalizing. One of the things people will see this year is a SIIM Global Track. It will be thought leadership in six different locations from around the world bringing leadership from their geographic area into SIIM to lecture. There will probably be four sessions in the morning before SIIM "starts" and two after. The areas are South America, Europe, Africa, Middle East, Australia and Asia. We have started collaborating with expert leads in those areas to identify the right content, the right presenters and we believe it will really extend the great network and culture that SIIM has to bring people together around imaging informatics.

The second big thing you should know is that it will be a four day meeting, May 24th to the 27th. The theme for the meeting is "Connecting without Boundaries." Day two will be unique. One thing I've learned over my years with SIIM is that the industry partners we have can be terrific sources of best practices and innovation. It will be users and industry innovating together. It's going to be connecting the user community with non-salesy, curated industry education, the latest technologies, people who can help the frontline folks like myself solve the problems they are facing. It's going to be very heavily devoted toward industry partnerships and bringing the network of SIIM into the really rich educational world of industry.

HCB News: Are there any sessions you're particularly excited about?
CR: With the four day meeting we will have four keynotes, once each day. I'm especially excited about the day four Dwyer Lecture which will be Adam Flanders. Adam is a legend in the imaging community and a very engaging speaker. On day two, we're going to have a keynote session by Jonathan Rothberg who is an entrepreneur, a tech and imaging founder and also an engaging speaker who comes from Yale. He's going to have really a lot of great things to lead us off on a day when we're trying to bring together clinicians and hospital imaging informatics professionals to connect with industry. Hal Wolf, the CEO of HIMSS, will speak to us on day three. HIMSS has been a terrific partner for SIIM through the HIMSS-SIIM Enterprise Imaging Community. Our day one kickoff keynote is Kimberly Manning, who serves as an Associate Professor of Medicine as well as the Associate Vice Chair of Diversity, Equity, and Inclusion for the Department of Medicine at Emory University School of Medicine in Atlanta. Finally I'd like to plug SIIM's new AI Call for Models effort. SIIM is looking to take in AI models, vet them and solve the problem of reproducibility of data between sites. Ultimately data sharing and AI model sharing between institutions remains a challenge and SIIM is looking to host the conversation and sharing of those best practices.