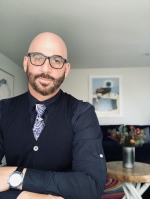 Although the COVID-19 vaccine gets all the headlines, the world will always need rapid tests
April 30, 2021
By Ron Chiarello

The COVID-19 vaccine rollout in the US has ramped up to several million doses per day, dominating headlines for much of 2021. This intense media focus on vaccination places us at risk of overlooking an important advance that is needed to manage current and future pandemics: the development of low cost, at-home rapid testing for infectious diseases.

Given the swift pace of vaccination in the U.S., it's easy to be lulled into thinking that a return to normalcy is around the corner and worries about COVID-19 infections will soon fade into the past. However, a look at the numbers shows that even an advanced country such as the U.S. still has plenty of work to do to achieve the 70% to 85% vaccination rates needed to obtain herd immunity, given vaccine hesitancy and the emergence of new variants.

A recent Bloomberg analysis estimates that while the U.S. may achieve herd immunity in 2022 (which is far from certain) it would take the rest of the world seven years to get there at the current pace of vaccination. Similarly, The Economist recently reported that 85 less-developed countries, primarily in the Southern Hemisphere, will not have widespread access to the vaccine before 2023.

The takeaway, realistically, is that COVID-19 is here to stay, at least for the foreseeable future. In the best-case scenario, the COVID-19 of the future becomes a more benign virus with symptoms more like other viruses connected to the "common cold" today. Accordingly, instead of "beating" the virus, we need to shift our focus to better managing it.

People across the world, whether they live in developed or emerging economies, need access to rapid, self-administered COVID-19 tests to help slow the disease's progression until we achieve herd immunity. In fact, these types of test will be needed to distinguish between a variety of acute respiratory infections that display common symptoms, such as influenza, respiratory syncytial virus (RSV) and even pneumonia. In this way, each disease can be treated with specificity. Unfortunately, there is a long way to go before we get to the point of widespread availability for rapid testing.

In the U.S. alone, we need to perform about six million daily tests to stop outbreaks from growing and protect the most vulnerable, according to a recent analysis from researchers at Brown and Harvard universities. However, as of late March, the nation's daily testing count stood at less than two million per day and has never exceeded three million in one day since the onset of the pandemic. Across the developing world, it's a certainty that the daily-testing picture is significantly bleaker.

Why the need for COVID-19 testing persists
As developed countries like the U.S. accelerate vaccination rollout, cases, hospitalizations and death rates have thankfully begun to decline, offering some hope for a glimpse of life beyond COVID-19. However, that progress has collectively led us to neglect testing, which acts as a critical public-health component to slow the virus' spread.

Indeed, "a regimen of regular testing works as a sort of COVID-19 filter, by identifying, isolating, and thus filtering out currently infected persons, including those who are asymptomatic," according to a New England Journal of Medicine editorial by researchers from Harvard University and the University of Colorado.

Not only does testing warn individuals of when they are infected and need to self-isolate, but it plays an essential role in enabling officials to monitor and track the disease from a public health perspective. Given the recent proliferation of COVID-19 variants, and the fact that researchers are still unclear over whether vaccinated individuals can continue to spread the virus, the need for rapid testing has become even more acute.

Four key market needs for COVID-19 tests
Perform a web search on "COVID-19 at-home test" and no shortage of results will appear, likely confusing many consumers. However, with many of these offerings, the concept of "at-home test" is a misnomer; "at-home sampling" is more accurate. Most of the COVID-19 tests currently on the market require at-home users to mail their samples to a lab for analysis, a process that usually takes several days.

There are two categories of diagnostic tests for COVID-19: molecular, like polymerase chain reaction (PCR) tests, and antigen tests. From the end-user's perspective, both categories of COVID-19 diagnostic tests require a nasal or throat swab, but they differ in what they attempt to detect. Molecular tests look for genetic material that comes only from the virus, while antigen tests identify protein fragments that are indicative of, but not unique to, the virus. A molecular test is usually the best option, because it will have fewer false negative results than other diagnostic tests, according to Harvard Health.

Following are four critical market needs that must be solved by any COVID-19 testing approach:

• Low cost per test: To ensure widespread adoption and availability, at-home COVID-19 tests should cost no more than a latte.

• Accessible, easy-to-use and readily available: Users should be able to take their own samples, then process those samples at home via a portable analysis device that connects to a smartphone app.

• Enables rapid time to treatment: After a sample is obtained and placed into the device, results should be available to users within approximately 30 minutes.

• High performance: Tests should be proven to achieve at least 95% accuracy, enabling greater confidence in the results and less-frequent testing.

The lightning-quick development and rollout of the COVID-19 vaccine has been among humanity's greatest scientific achievements in recent decades, but we can't allow this accomplishment to distract us from one next critical step in managing the pandemic: the development of rapid, accessible and accurate COVID-19 at home tests. The virus isn't going anywhere, particularly from a global perspective, and the investments we make to improve rapid-testing technology today will pay future dividends in the form of saved lives and higher-performing economies.

About the author: Ron Chiarello is founder, CEO and chairman of the board of Alveo Technologies. Alveo is leading the transformation of the consumer health tech market with a low-cost, easy-to-use diagnostic platform that will change the way infectious diseases are detected and managed. With an initial focus on acute respiratory infections, including COVID-19, Influenza A/B and RSV, Alveo's agile and dynamic be.well diagnostic platform can be adapted to detect a wide range of diseases that threaten public health.