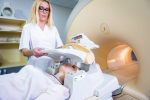 2020 saw 35% drop in MR procedure volume
February 11, 2021
by
John R. Fischer
, Senior Reporter
U.S. radiology and imaging departments saw MR procedure volumes plummet by 35% in 2020.

Hospitals, their associated outpatient locations and independent imaging centers saw an almost 50% drop from 2.79 million in January to 1.42 million in April 2020, due to the impact of the pandemic. They finished the year with an estimated 27.4 million MR procedures, according to IMV Medical Information Division's 2020 MR Market Outlook Report.

One COVID-19-related factor contributing to the decline was increased downtime to disinfect imaging machinery. "Our MR team cleans their own suite, so as not to have any mishaps with housekeeping entering the magnet room. After a positive COVID patient has been scanned, our team must have extra time blocked on the schedule to do a deep clean of the room," said one respondent in the IMV survey.

Stronger disinfection routines were one of the top two actions departments undertook in response to the crisis, along with modifying waiting room protocols for social distancing. This increased downtime, which reduced operational efficiency and revenue, particularly due to the unique logistics that come with MR magnet safety precautions.

"Invest in having cloth masks made to provide to MR patients that have no metal in them and put the facility's logo on it, and provide it free to the patients (or launder them afterwards for re-use if the patients don't want them)," Lorna Young, senior director of market research at IMV Medical Information Division, part of Science and Medicine Group, told HCB News, as a suggestion for reducing downtime due to disinfection routines. She adds that providers should "make sure that the masks are not made of smelly polyurethane or other noxious chemicals). That way, they can provide the metal-free mask to the client while also dialoguing with the patient to make sure they do not have any other metal in their clothes and body parts."

About 2.28 million MR procedures a month were performed, according to respondents, which is about 60% higher than the 1.42 million they estimated in April, but lower than their pre-COVID estimate in January of 2.79 million. Over 70% attributed these numbers to MR outpatient cancellations or no-shows from fears of catching COVID-19, stay-at-home guidelines and reductions in elective procedures.

The types of MR procedures performed, however, remained the same, with the two highest volume procedure categories being spine and brain studies for the tenth year. Eight percent of MR procedures in 2020 are estimated to have been used to assess COVID-19 patients, including for associated post-COVID-19 follow-up conditions. Another 29% in hospitals with over 400 beds were used in COVID-related assessments.

The impact of the virus and preparation also varied geographically, with only 12% of rural area respondents experiencing a major impact on their operations, compared to 25% of urban clinicians. Over 90% of suburban respondents said their MR technologists are required to wear PPE, compared to two-thirds in rural areas.

Another impact was staff morale, which was affected by monthly case fluctuations, as well as reduced operating hours, layoffs and furloughs, mandatory sick leave and the backlog of MR patients built up from postponed exams. "We had a sudden high demand of MR exams due to the state 're-opening' restrictions," said one respondent. More patients seeing their physicians resulting in an influx of appointments with fewer staff and operating hours has put stress on the department and staff."

Over four-fifths indicated that even if post-COVID recovery has taken place, improving staff satisfaction and morale will be their top priority. Plans to acquire future MR scanners have also been altered in some places, with 23% seeing a decrease in funding for such purchases or experiencing operating budget reductions for MR accessories and consumables. A quarter said their original plans to order MR scanners from 2020 to 2023 have definitely or maybe changed, with some now facing possible delays in ordering and replacing units or ordering a reduced number of scanners.