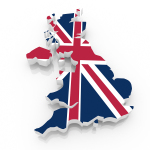 Cancer Research UK to create global hub for radiotherapy
November 06, 2019
by
John R. Fischer
, Senior Reporter
Cancer Research UK is pledging £56 million (more than $72 million) to the development of a global hub for radiotherapy research to further develop advanced techniques and technologies such as FLASH therapy and artificial intelligence.

Known as Cancer Research UK RadNet, the hub will be a network of world-first exploratory projects for enhancing mainstay treatment. Its work will be divided among the Universities of Cambridge, Glasgow, Leeds, Manchester and Oxford; the Cancer Research UK City of London Centre; and The Institute of Cancer Research, London in partnership with The Royal Marsden NHS Foundation Trust.

"Radiotherapy is a cornerstone of cancer medicine, with around three in 10 patients receiving it as part of their primary treatment," said Michelle Mitchell, chief executive of Cancer Research UK, in a statement. "The launch of our network marks a new era of radiotherapy research in the U.K. Scientists will combine advances in our understanding of cancer biology with cutting-edge technology to make this treatment more precise and effective than ever before."

More than 130,000 patients across the U.K. are treated with radiotherapy annually. The objective of the network is to optimize and personalize this treatment to enhance survival odds for cancer.

To do this, the centers will focus on developing new techniques for delivering radiotherapy and studying new radiotherapy-drug combinations, including immunotherapies. They will also research how to reduce associated long-term side effects, and ways to improve quality of life for patients during and after treatment.

Among these areas of research are the exploration of FLASH Radiotherapy, which has shown potential for minimizing damage to healthy tissue surrounding tumors compared to conventional radiotherapy; the optimization of proton therapy technology and maximization of its benefits; and investigations into overcoming hypoxia, a condition in which tumors are less susceptible to radiotherapy due to low oxygen levels.

Another project will involve the study of cancer stem cells to determine potential causes for cancer recurrence. These cells are highly resistant to radiation, and only a few remaining after treatment are enough to cause cancer to return.

Other ventures include utilizing AI to design personalized treatment plans guided by data from patients' scans; and developing and testing drugs in combination with radiotherapy. This includes immunotherapies, which are treatments that use the immune system to fight cancer, and the use of gene-editing technology for developing drugs that interrupt the ability of tumors to repair DNA damage caused by radiotherapy.

"I've seen firsthand how successful radiotherapy can be for patients that I treat, but it's been frustrating to see the U.K. lagging behind other countries when it comes to prioritizing research into this vital treatment," said Dr. Adrian Crellin, Cancer Research UK trustee and former vice president of the Royal College of Radiologists, in a statement. "Cancer Research UK's investment will overhaul radiotherapy research in the U.K. to bring the next generation of treatments to patients sooner."

The entire £56 million has been divided among the centers, with £16.5m awarded to the University of Manchester; £14m to the Cancer Research UK City of London Centre; £8m to the University of Cambridge; and £3.5m each to the Universities of Glasgow, Leeds, and Oxford. The Institute of Cancer Research, London and The Royal Marsden NHS Foundation Trust have also received £3.5m.

An additional £13 million will be used to form new research groups and fund more Ph.D. students in Manchester, London and Cambridge. The network will also facilitate opportunities for diverse scientific fields to collaborate with one another, with a share of £4 million available to all centers for joint research projects, conferences and temporary assignments between locations.