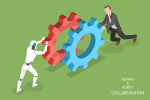 Progenics collabs with VA on AI research for prostate cancer treatment
July 30, 2019
by
John R. Fischer
, Senior Reporter
Progenics Pharmaceuticals is rolling out a number of machine learning applications for medical imaging analysis as part of a new program created in collaboration with the Veteran Affairs Greater Los Angeles Healthcare System (VAGLAHS).

The program will utilize the tools to extract information from medical images that can be applied toward the improvement of treatment management for veterans with prostate cancer.

"Progress in prostate cancer treatment has been limited because the current clinical imaging assessment provides results that are only semi-quantitative and subjectively determined," Aseem Anand, vice president of digital technology at Progenics, told HCB News. "Remarkable recent advances in artificial intelligence (AI) algorithms for image recognition provide a fully quantitative imaging assessment of tumor burden rapidly, automatically, and reliably. The objective of the collaboration is to clinically evaluate and validate AI algorithms generating quantitative assessment of medical images to determine treatment response in veterans with metastatic prostate cancer."

Among the applications offered are Progenics' automated Bone Scan Index (aBSI), which offers full quantitative assessments of bone scans that incorporate inferred masses of all lesions and reflects the proportion of total skeleton mass observed to have tumor involvement. The solution was found to be an independent prognostic determinant of overall survival in a multi-institutional phase-three study. The results supported using aBSI in the design and eligibility of clinical trials for systemic therapies for metastatic castration-resistant prostate cancer.

Another is the PSMA-AI technology, the first software tailored to Progenics' PCFPyL, a clinical-stage, fluorinated PSMA-targeted PET imaging agent for prostate cancer. The solution provides automatic and quantitative computations of evaluations used to detect, localize, quantify and stage both localized and advanced prostate cancer lesions. Powering it are deep learning and convolutional neural networks for determining detailed anatomical context from anatomical images. Pairing this information with corresponding PSMA-targeted functional images, users can assess the prevalence and growth of cancer. The information retrieved with the solution has been statically validated to improve hybrid image assessments on prostate cancer patients by humans.

The VAGLAHS would prospectively validate algorithms for effective health management, with all image and associated clinical data anonymized before being processed by them, for data protection. Progenics' AI platform handles all data encrypted in transit and at rest, and is designed in accordance with cybersecurity guidance, the NIST cybersecurity framework, and the Open Web Application Security Project (OWASP).

"The underlining technology is developed to be inherently agnostic of imaging modality and has the potential to be evaluated in any anatomical and/or functional imaging," said Anand. "The collaboration initially would focus on bone scan, which is the most ubiquitous imaging modality in metastatic prostate cancer, and PSMA-PyL PET/CT, which is revolutionizing the treatment management of patients with prostate cancer. However, the collaboration is open for all imaging modalities — PET, SPECT, CT, MR and Bone Scans."

The Veterans Health Administration is the largest integrated healthcare system in America and provides care to nine million enrolled Veterans annually at 1,240 healthcare facilities. This includes 170 medical centers and 1,061 outpatient sites of care of varying complexity (VHA outpatient clinics).

Progenics hopes to evaluate the outcomes of the collaboration with VAGLAHS early next year and eventually open discussions for rolling out the program nationwide.