By Rob Reilly

The same transparency and convenience that characterize consumers' digital tools can bring major financial, competitive and patient care benefits in clinical device service delivery.
As consumers today, we live in a digital world. On a hand-held device we hail a ride, then digitally track as our driver approaches. We order products online, then monitor their progress as they make their way to our porches. We manage our retirement funds, monitor our homes' security, even track our kids' whereabouts with digital tools. It's highly convenient and we wouldn't know how to live without it.
Digital is also the present and future of service — of healthcare technology management — for hospitals and care networks. Except that here transparency and real-time insight aren't just convenient. They can help improve providers' competitive standing and financial health and, above all, enhance care quality and patient satisfaction.
Powerful digital tools already exist and are in use. Service providers who succeed in the next decade will be those that effectively deploy digital technology and artificial intelligence (AI), into the hands of a highly trained and skilled workforce.
The digital era of healthcare is here. Accenture's Digital Health Tech Vision 2019 report asserts "There is no longer a separation of digital and non-digital. The future will be about full adoption of social, mobile, analytics and cloud." This applies as strongly to service as it does to clinical practice.
At its core, service is about helping care providers make wise investments in clinical equipment, deploying it for the greatest impact, ensuring care when patients need it, maximizing uptime and driving revenue. That all depends on reliable decision-support data and effective, transparent communication.
For service companies and their provider clients, manual data collection and analysis, and sole reliance on verbal communication are, or soon will be, as quaint as physician house calls. At its best, digital technology dissolves boundaries between vendor and client, enabling full transparency and immediate, real-time information sharing.
Consider, in practical terms, how this can work. A simple mobile application lets clinical engineering teams instantly see the status of equipment, issue work orders, and then follow the status of service (e.g., engineer dispatched, repair in progress, parts en route, work completed), all without having to email a contact or phone a call center. Asset maintenance and management software enables in-house teams to use the vendor's service data to create accurate reports on key metrics like mean time between failure, device utilization, and planned maintenance compliance.
Meanwhile digital technology continuously keeps tabs on clinical equipment. A real-time location system tracks the locations of mobile devices so clinicians can quickly and easily locate them when needed for patient care or when due for planned maintenance.
Digital technology keeps around-the-clock watch on mission-critical devices such as CT and MR scanners, using AI and data from a large installed base to detect operating anomalies or, in the case of CT, impending tube failures. In case of a fault, the vendor's service team is notified; a remote engineer makes a proactive fix, or a field engineer makes a timely repair so that unplanned downtime is avoided and patient impact is minimized.
Along the way, service data are collected and analyzed so service practices can be refined and clinical device designs fine-tuned to enhance reliability.
A critical capability in an age of transparency and device connectivity is cybersecurity — increasingly a strategic function in healthcare organizations. AI-powered threat detection systems are being developed to identify, manage, record and analyze security threats or incidents around the clock, in real time.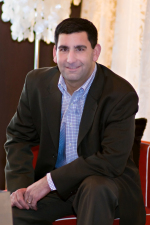 Amid the growth in digital technology, there is no discounting the importance of the people who do the essential service work. A key role of digital technology and AI is to eliminate tedium and do the heavy lifting of analyzing vast volumes of data — leaving staff with more time to use their skills and creative thinking to solve problems and help care providers further their mission of patient care.
About the Author: Rob Reilly is vice president and general manager of U.S. and Canada service at GE Healthcare.