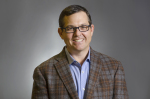 Q&A with Jason Green, partner and chief sales officer of Health Connect Partners
August 13, 2019
by
Gus Iversen
, Editor in Chief
HCP has its fall conferences fast approaching, and HealthCare Business News connected with Jason Green in advance of their events to learn more. The five conferences span a number of health care focuses: Hospital Pharmacy; Supply Chain; Radiology & Imaging; and O.R. & Surgical.

HCB News: The last time we spoke was in 2016. What are some changes that Health Connect Partners has gone through since then?
Jason Green: Health Connect Partners' mission is to bring healthcare providers and suppliers together in a context that fosters meaningful connections. Healthcare is a rapidly changing environment and we have an ongoing responsibility to ensure we bring the right people to our shows so we can facilitate those relationships. Since 2016 we have implemented a new selection process that helps us better identify the right decision-makers and thought leaders, which has increased the caliber of the provider executives who attend our events. Our conferences continue to grow and attract a diverse group of vendors/suppliers, which is a key component to our mission's success.

HCB News: Tell us about the upcoming HCP events and, for those who have never attended, what these events entail.
JG: We have four great conferences coming up this fall — Hospital Supply Chain; O.R. & Surgical; Radiology & Imaging; and Hospital Pharmacy. Each show is centered around industry-specific educational content with agendas designed for continual interaction between providers and suppliers. Every conference features four hours of our signature Reverse Expo, a unique model that facilitates true face-to-face networking between providers and suppliers. Additionally, by inviting only the decision-making provider executives from each facility, they have a phenomenal opportunity to network with their true peers and learn about solutions which have been successful for their facilities. This peer-to-peer knowledge sharing is key to each of our events and offers tremendous value to the provider attendees.

HCB News: For people unfamiliar with the term, how do you describe a "Reverse Expo"?
JG: The Reverse Expo takes the traditional trade show format with exhibitors setting up a booth and flips it: in our model, the hospital providers sit at a booth and suppliers come to them. This has become an extremely popular concept for both the hospital providers and suppliers. For providers, they are given the opportunity to learn about many more products, services, and technology-related companies than they have access to in other conferences, as they are not being pulled away for other activities during exhibit hours. And for suppliers, this affords them a dedicated, one-on-one opportunity to learn the objectives of each hospital decision-maker and educate them on the solutions they offer.

HCB News: What are the most highly attended events of the year?
JG: Our conferences continue to grow, with each season setting new records for our highest attendance. Anytime you can bring together a hospital decision-maker and a supplier who has relevant solutions for them, then give them an opportunity to connect in a meaningful way, the end result is going to be a strong ROI. There is not a better environment for networking, relationship building, and professional development in one location.

HCB News: Are you seeing increased growth or interest in any of the other particular events? If so, what do you attribute that to?
JG: We are seeing tremendous growth in the Radiology & Imaging; Hospital Supply Chain; and Hospital O.R. & Surgical markets, as there are multiple call points throughout the hospital that involve decision makers in each of these areas.

HCB News: For providers, how might attending HCP and connecting face-to-face with suppliers result in added value or benefit to their facility?
JG: In the words of one provider attendee: "I am able to build relationships with the vendors here because the meetings are one-on-one in my booth. I have a chance to meet with vendors that can actually save my hospital money and I have dedicated time to ask them my questions. I do not get that kind of one-on-one care elsewhere, and I appreciate that about HCP. I also appreciate that HCP brings in not just the big, well-known vendors but also smaller companies just starting out who are on the cusp of something new. Some of the vendors I've met here have saved my hospital a tremendous amount of cash flow, and they introduced me to things that I would not have ordinarily had an opportunity to learn about."

HCB News: How will HCP look different five years from now?
JG: The answer to that question is tied to another: how will the healthcare industry look different five years from now? We are in a constantly evolving industry. However the healthcare landscape shifts, HCP will be there to meet the needs of our healthcare leaders by providing access to superior professional development and an unparalleled opportunity to strengthen their business connections.