The decision to purchase a new piece of capital equipment is never taken lightly — but some healthcare providers may not realize that selecting a system is actually just the tip of the iceberg.
Figuring out how to maintain and service the system in a way that avoids downtime while also avoiding unnecessary expenses is critical. While there are many options for servicing medical equipment, few would argue that anyone has more intimate knowledge of a piece of machinery than the manufacturer (or OEM). This is especially true for new technology that has just recently entered the market.
When sitting down to negotiate a service contract, Aaron Goryl, general manager for U.S. healthcare technology management and on-demand development at GE Healthcare, has one piece of advice: "Don't let your service providers guess what you need."
Communication, according to Goryl, is essential for any provider to get the exact services it requires, whether it be repairs, maintenance or equipment utilization, for a fair price and without unnecessary hassles or complications.
"Look for both parties to collaborate. Be open and candid with one another on what they have and what their desired outcomes are," he told HCB News. "This ensures flexibility and customization are built into the agreement so the customers, over time, can meet the objectives and obtain the outcomes they desire."
But to figure out the best agreement, care providers must have a solid grasp of their equipment, from its complexity and age to its downtime costs and order of criticality. In return, OEMs must accept that one size does not fit all, and be flexible to customize their offerings for parts and components, as well as training and manpower for services.
The role of training in a service agreement
All OEMs can be expected to provide training on a continual basis to their service engineers so that they can service different types of equipment that vary in complexity. However, increasingly, the industry's manufacturers are adding training as a service itself to practices that do not require a full-service contract or prefer their own in-house teams. Understanding the needs of individual customers can lead to tiered service options and greater in-house capabilities, not to mention cost savings for healthcare providers.
"The more comfortable our customers are in servicing their devices and the more professional they are, the more highly trained, faster and effective they are in servicing our equipment," said Matthew McCallum, vice president of business management and marketing of customer service at Siemens Healthineers North America. "The more highly trained, faster and effective they are in servicing our equipment, the better the equipment operates."
Training for in-house teams roots out the threat of inadequate maintenance and repairs, and ensures services are performed at the highest quality, according to Dennis Durmis, SVP and head of Americas region at Bayer Radiology.
"While there are many highly-trained, in-house teams and reputable third-party companies, there is still a lack of consistent standards," he said. "The gaps in accountability across the industry ultimately leave patients and providers vulnerable."
Aside from training, a good service contract should account for consequences of failure, speed of time, life cycles of devices, basic uptime needs, criticality of order, internal in-house staff support, and a plethora of other variables. Cost is a notable one, as manufacturers must be able to not just plan and tailor services to fit with a provider's budget but work with them to understand which capabilities are worth the cost and which are not.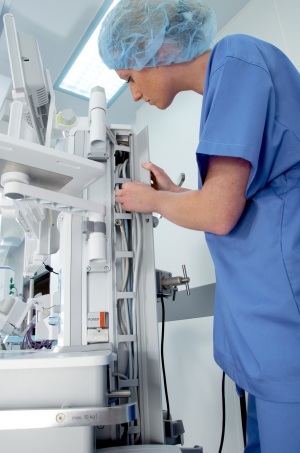 "Ultimately, a customer's perception of a good service contract is based upon the return on investment it delivers," said Jatin Thakkar, director of Carestream's global service and sales support. "Cost, product performance and reliability are key influencers of customer satisfaction."
Planning for the end of equipment life
Eventually, all medical devices must eventually be put out to pasture. But with shrinking margins and a shift from fee-for-service to value-based care, replacing equipment is impossible for many providers, who instead are working to conserve the life of their existing equipment for as long as possible.
Keeping an outdated system running smoothly and safely is also costly, and requires having access to necessary components, according to Dave Karchner, senior director of marketing, operating room, service and government solutions at Draeger.
"The challenge with equipment reaching its end of life is not typically the labor, which an OEM or ISO can support," he said. "It's instead a question of cost and the availability of parts."
Generally speaking, most OEMs will typically support older equipment for 7-10 years after discontinuation. For providers who are looking to keep equipment from various vendors functioning for long periods of time, partnering with an OEM that has a multi-vendor service department may be a desirable option.
"It gives our customers access to parts, training, technical support and equipment company," Stefano Folli, head of services and solutions North America for Philips, said in regard to AllParts Medical, a Philips holding and an ISO 12485:2003 registered third-party parts supplier. "For qualified in-house teams ordering Philips or non-Philips parts, we also provide complimentary parts identification service and volume incentive discount purchase programs. These include elimination of restock fees, reduction in freight costs and extended parts warranty."
Another way to deal with outdated technology is to partner with an OEM that offers an affordable upgrade pathway as part of the contract. Konica Minolta customers, for instance, rely on its Blue Moon Plans to plan for these situations.
"Our Blue Moon Plans provide an upgrade path for our customers to plan their transition of 'older' equipment over time to new solutions," said Dan Baskel, executive director of strategic partnerships, and Steven Eisner, senior manager of inside sales and service solutions, at Konica Minolta. "Advancements to imaging solutions, particularly those focused on improving patient care and a clinician's diagnosis, are inevitable."
It's no secret that hospitals are on increasingly tight budgets. For manufacturers that don't want to lose their clients, providing an affordable upgrade pathway is just good business.
"We assist in either upgrading or replacing all the systems economically to newer technology to fit our customers' clinical business or community goals," said Andrea Hearn, service marketing manager for Canon Medical Systems USA. "We never leave the customer out there alone with their equipment. There's always a solution we can strive to work out with our customers. As a solution provider, that's essential."
Communication is key
A perfect service contract means getting everything you need without things that you don't need. While this may not always be possible, it's a goal worth striving for, and that means having an intelligent and open dialogue with your service partners.
"Communication is key," said Karchner. "Healthcare delivery strategies can vary from hospital to hospital. With continued communication, the OEMs can better tailor their offerings to fit your needs."
When working with an OEM who offers flexible service solutions, healthcare providers should come to the negotiation table already knowing how their needs stack up.
"Customers are looking to better align costs to criticality — certain imaging devices or lab devices are more critical than others, and they want to align coverage more to level the criticality; patient criticality, financial criticality, [as opposed to] getting a blanket approach to service delivery across a large install base," said McCallum. "Higher level to some systems and departments, lower level to others."
As the trend toward more individualized OEM service offerings continues, it may reach into more nuanced aspects of the partnerships than just repairs, maintenance and parts — such as training, budgeting and plans for upgrades.
"Ongoing, open and transparent two-way communication through frequent informal interactions, formalized planning sessions and quarterly partnership service reviews is key to maximizing investments made in a service relationship, and discovering new and innovative opportunities for incremental value," said Folli.