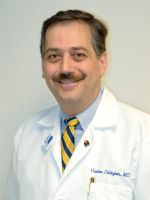 Q&A with Dr. Vasken Dilsizian, 2019-2020 president for SNMMI
June 18, 2019
by
Sean Ruck
, Contributing Editor
The annual SNMMI meeting takes place this year June 22-25 in Anaheim, California. As is tradition, HealthCare Business News spoke with incoming SNMMI President Dr. Vasken Dilsizian about the state of the society. Dilsizian is a professor of medicine and radiology at the University of Maryland School of Medicine. He is the chief, division of nuclear medicine, in the department of diagnostic radiology and nuclear medicine at the University of Maryland Medical Center in Baltimore. Dilsizian provided some more information on his professional background and then news about the happenings at SNMMI.

HCB News: What inspired you to pursue a career in healthcare?
Dr. Vasken Dilsizian: While studying chemical engineering at Tufts University, I really enjoyed physical and organic chemistry. I became fascinated by membrane separation technology, crystallization, and fluid dynamics. I wanted to apply the knowledge I obtained in chemical engineering to understanding human physiology. I applied and was accepted at Tufts University School of Medicine, the first in my family to become a physician.

HCB News: How did you get involved with SNMMI?
VD: It was rather an unconventional and less travelled pathway. I completed my residency training in internal medicine at Georgetown University Hospital and my fellowship in cardiology at Boston University Medical Center and Boston City Hospital. This was followed by an additional year of nuclear cardiology fellowship at the Massachusetts General Hospital (MGH) in Boston. My research endeavors in myocardial viability at the MGH led me to the NIH in Bethesda, where I became a clinical investigator in the cardiology branch of NHLBI and subsequently the director of nuclear cardiology from 1992 to 2001.

While conducting myocardial viability studies using thallium reinjection and FDG PET in patients undergoing coronary artery revascularization, I discovered the captivating field of nuclear medicine at the NIH. In order to be an independent senior investigator and an authorized user of radiopharmaceuticals in my research protocols, I pursued additional residency training in nuclear medicine within the Clinical Center of the NIH. When I became a diplomate of the American Board of Nuclear Medicine, I immediately joined the SNMMI and became an active member within the cardiovascular council. I was elected by my peers to serve as the president of the Cardiovascular Council, and I was subsequently nominated and elected to serve on the Board of Directors of the SNMMI, which led to my current post of incoming president of the society.

HCB News: How long have you been a member?
VD: Since 1995.

HCB News: In the press release about your appointment as president-elect, you were quoted talking about how the society should "cultivate opportunities for collaboration with the other professional organizations," do you have particular organizations in mind?
VD: Nuclear Medicine is a multi- and interdisciplinary field. It is multidisciplinary for it involves imaging disease processes in essentially all organs and every subspecialty of internal medicine. It is also interdisciplinary, which may require the clinical expertise of cardiologists, neurologists, endocrinologists, and oncologists, in conducting clinical trials, and thereby elevate the value of image-guided therapy and improve patient outcome. Often, new ideas are clinically driven, and require collaboration from our clinical colleagues and referring physicians in order to understand and/or solve the medical condition using advanced imaging techniques. Thus, it is critical that SNMMI cast a wide net and cultivate opportunities of collaboration with other professional organizations as well as patient advocacy groups, underscoring the value of molecular imaging for patient management, promoting additional subspecialty nuclear medicine training, and fostering scientific investigations.

HCB News: Will that be your key focus during your time as president or are there other top priorities?
VD: It would be an honor to be the spokesperson for the society during my presidency both within the United States and around the world.

These are exciting times for our field, having witnessed U.S. Food and Drug Administration (FDA) approval of several new diagnostic and therapeutic agents within a very short period of time that are reimbursed by the Centers for Medicare & Medicaid Services (CMS). Undoubtedly, the field is poised to get even better and more exciting with time. However, we need to keep pace with changing health care and reimbursement policies, and position the Society to be proactive rather than reactive in order to achieve appropriate reimbursement for our high-value care. Congress passed the 2014 Protecting Access to Medicare Act, which tied advanced diagnostic imaging services / reimbursement to Appropriate Use Criteria (AUC). SNMMI is one of the few organizations that the CMS has recognized to develop their own AUC. That's very important. The criteria for appropriate use are evidence based on published clinical trials and/or expert consensus. This is to reassure CMS that the information provided by ordering a diagnostic and/or therapeutic radionuclide based study may either, 1) change medical management or therapy, or, 2) improve patient outcome, which would be consistent with "best medical practice", and SNMMI is ready to meet that challenge.

Second goal would be to increase outreach and media exposure of nuclear medicine therapeutics and diagnostic studies. This requires a grassroots approach. Our members should reach out to their regional newspapers and report on patients with great radionuclide-based treatment outcomes. We need to post such reports of remarkable patient outcomes on social media, and hope that these will be picked up by major newspapers, TV and cable stations or magazines. SNMMI should reach out to major networks and newspapers offering potential interviews with their leaders on major advances in FDA-approved radiotracer and therapeutics and their impact on health care delivery and patient outcome.

Third goal is to increase international member representation on the councils and committees of the SNMMI, and encourage multinational diversity and inclusivity, thereby increasing overall SNMMI membership and enhancing its position as the global leader.

I would also like to engage our new graduates from residency programs and diplomates of the ABNM to be involved in the Society. We should be their natural home base and provide them with opportunities for growth, mentorship and leadership development, in order to sustain the creativity and discovery within the field.

HCB News: You mentioned international membership. How large is the international representation at this time?
VD: Nearly 15 percent of our membership is international, and that's despite most of the countries having their own local societies. Thus, in order to become a member of the SNMMI, our international members have to perceive added value in their professional growth by joining the Society. Approximately 2/3 of the abstract submission to our annual scientific sessions and 3/4 of the manuscript submissions to the Journal of Nuclear Medicine (the primary journal of the Society) are international. There are a number of original "proofs of concept" and "first in man" applications of these new radiopharmaceuticals from Europe, Canada, and Asia that are submitted for publication in the Journal of Nuclear Medicine. Hence, I feel strongly that we should extend a heartfelt invitation to our international colleagues to be members and/or take leadership roles within the various committees, councils and centers of the Society, providing opportunities to have scholarly involvement within the organization, as well as input in clinical procedure and practice guidelines, white papers, position papers, and/or clinical consensus statements. One of the key strengths of the Society is its diversity of members that extend beyond physicians, to nuclear medicine technologists, physicists, radiopharmacists, as well as allied health professionals. That diversity, which is the pillar of our society, should be extended to our international colleagues.

HCB News: Do you anticipate more growth of nuclear medicine beyond the U.S. in years to come?
VD: Yes, I anticipate expanding the approach of first diagnostic and subsequent therapeutic applications of radioisotopes, which was so successfully implemented with the use of radioactive iodine for hyperthyroidism and thyroid cancer since the 1940s. More recent approaches involve radio-immunotherapy as well as the treatment of neuroendocrine tumors and prostate cancer. I predict that the therapeutic component of the nuclear medicine practice will grow to where radiation oncology and immunotherapy is today, and thereby, need highly skilled subspecialists to perform these procedures.

HCB News: What are the biggest challenges for SNMMI members today?
VD: One of the biggest challenges in recent years was job opportunities for new graduates from nuclear medicine residency programs. However, with the advent of new technologies and radiotracers, the number of medical students pursuing a career in radiology and nuclear medicine is growing. In addition, more and more radiology and nuclear medicine residents are now pursuing a dual-board (American College of Radiology and the American Board of Nuclear Medicine) training pathway. The latter is a consequence of the recent surge in employment opportunities for graduates who have expertise in interpreting hybrid PET/CT and PET/MR imaging.

The other challenge for the society is that it has to be nimble and willing to change with time in order to achieve perfection. Recently, the Society launched its Value Initiative in 2018, which is a strategic plan to advance the field in, 1) quality of practice, 2) research and discovery, 3) attract high quality candidates to the field and workforce, 4) advocacy at the Capitol Hill and CMS for reimbursement and, 5) Outreach to our patients, referring physicians, patient advocacy groups, and hospital administrators.

The society also established the Clinical Trials Network (CTN) in order to facilitate the effective use of molecular imaging for high-quality clinical trials through standardization, coordination, and education for drug development and regulatory approval. The CTN assists with industry-sponsored clinical trials and Orphan Drug designation.

HCB News: What developments are you excited about with this year's conference?
VP: To witness and learn all about new advances in technologies and radiopharmaceuticals, meet the new graduates from residency programs and diplomates of the ABNM, hear the issues and concerns of the SNMMI members in order to serve their needs and meet their expectations as the incoming president of the society.

HCB News: How do you predict nuclear medicine will change in the next five to 10 years?
VP: We will continue to witness massive growth in new radiopharmaceuticals and technologies. I predict that the therapeutic component of the nuclear medicine practice will grow to where radiation oncology and immunotherapy is today, and therefore, we will need highly skilled subspecialists to perform these procedures in the future.

HCB News: Is there anything else you'd like to cover?
VD: I am grateful for the opportunity, and I look forward to working with an incredibly talented team of SNMMI leaders and staff in order to turn these strategic priorities and goals into reality.