HCB News: Can you tell us a little bit about the history of FIME and what the acquisition by Informa has meant for the organization?
Gil Alejo:
Now in its 28th year, FIME has gone from strength to strength, particularly after the acquisition of the show by Informa Life Sciences Exhibitions, the world's leading publishing and exhibitions company. Informa's impressive track record of managing more than 26 healthcare exhibitions and more than 100 conferences yearly covering African, Middle Eastern, European and Asian markets has been a huge asset to the strategic direction of the show and as such, FIME continues to be one of the most important events to do business in the healthcare market in Latin and North America. Informa's goal for FIME is to generate value for our customers and partners by driving further product innovation and deeper engagement in these specific markets.
HCB News: What kind of issues do you expect will dominate conversations at this year's meeting?
GA:
One of the key themes discussed at this year's meeting will be patient safety and quality control. In particular, the present and future directions of healthcare epidemiology and infectious disease, as well as quality improvement for hospital epidemiology and infection prevention programs. Chairing the patient safety program for 2018 is Kelly Pyrek, editor-in-chief of Infection Control Today Magazine, from Phoenix, Arizona; alongside activity director Anthony Warmuth, who is the enterprise quality administrator at Cleveland Clinic in Cleveland, Ohio.
Cybersecurity is another major conversation focus at FIME 2018. The Digital Healthcare Conference will offer practical advice on understanding updates in patient privacy and security regulations to ensure you are compliant, and will discuss the implementation of practical strategies to protect patient data and facilities from growing cybersecurity threats, among other topics. Attendees will hear from industry experts such as Sanjay Deo, who is the founder and president of 24by7 Security, from Fort Lauderdale, Florida; Seth Cutler, the vice president and chief security officer at Allscripts in Raleigh, North Carolina; and, Kelly McLendon, who is the managing partner at Compliance Pro Solutions in Titusville, Florida.
HCB News: For first time attendees, what advice would you offer to make sure they make the most of their time?
GA:
The first thing to do would be to sign up for FIME before July 17 and gain free access to the show. This can be done via www.fimeshow.com/visit. We have also signed up with our official housing partner onPeak to offer assistance and preferred rates for attendees who require accommodation in Orlando. We recommend that this be done as early as possible to secure discounted hotel rates.
One of the show's most popular features is a dedicated wall online and at the show offering dealers/distributors and agents the opportunity to post their business requirements live for exhibitors to review and connect directly to do business. The Dealers and Distributors Wall is a free business facilitation opportunity and we would recommend exploring this opportunity at the show.
Also, the entire exhibitor directory for FIME 2018 is now hosted on Omnia, Informa's global medical directory, providing company and product information from all our exhibitors, allowing you to connect with the people and products in one simple click, 365 days of the year. Visitors can view our quick demonstration video and explore the feature on Omnia via www.omniagmd.com/how-use-omnia.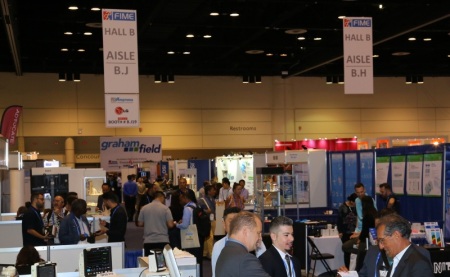 HCB News: Why has Orlando proved to be the ideal place to host this annual event?
GA:
Moving from Miami to Orlando was a strategic decision for the show. We needed more space in order to grow and the Orange County Convention Center in Orlando has provided us with just that. FIME 2018 visitors will now have the opportunity to meet 1,200 global manufacturers from 42 countries and access more than 500 products. The additional floor space has also allowed us to further increase our accredited conference offering year-on-year.
Informa's tradition of offering a strong educational element under the motto "Exhibition with Education" was always a driving factor for us to seek a new venue that would support our long-term strategy to be the premier platform for medical education.
While the exhibition provides a popular and unique business platform, Orlando also offers our attendees the opportunity to explore a number of theme parks and attractions, an eclectic mix of dining experiences, live music, theatre, galleries and so much more.
HCB News: For healthcare professionals who aren't sure if they should be attending, what kind of questions should they ask themselves?
GA:
It really is a simple numbers game. Where else can they explore the products and services of more than 1,200 exhibitors from 42 countries under one roof? FIME is truly the optimal platform to source cutting-edge medical equipment and technology on a global level, ensuring that they have access to the largest range of affordable new and refurbished medical devices, products and supplies at the best possible prices.
And even if purchasing is not a primary focus, FIME is also the premier platform to enhance knowledge, gain insights, enhance business ties and discover recent innovations in the medical and laboratory industries.
HCB News: What will the program at this year's event look like? Are there any particular highlights you're looking forward to?
GA:
The free-to-attend industry workshops and seminars will feature renowned international speakers specializing in a variety of topics built to address current challenges and issues within the medical and healthcare industry worldwide.
Another important offering of FIME this year are the four accredited conferences and trade seminar, which aim to support clinicians in making their day-to-day roles more time- and cost-effective, whilst ensuring a high level of patient care is maintained. Conference topics this year will focus on infection control, digital healthcare and hospital supply chain and procurement, whilst the trade seminar will discuss investment opportunities in North America, as well as provide market insights, trade prospects and regulatory affairs for market entry to the USA, Latin America, China, Asia, APAC and Europe.
The 2018 edition will also feature a dedicated area for medical laboratories titled MEDLAB Americas. Bringing together leaders in the IVD, diagnostics and laboratory management industry to exchange ideas and discover the latest testing techniques and solutions available to the market.