Along with a shortage of physicians, there will also be a lack of health technology management (HTM) professionals in the next few years. To solve this problem, in-house HTMs and parts companies are starting to focus on training.
"Across the industry you're going to see a pretty massive wave of retirements in technical talent in the next three to four years," says Rob Rielly, vice president and general manager of service at GE Healthcare.
GE is also experiencing the same problem in its own organization — about 5,000 people work in its service segment and 750 of them are expected to retire in the next three years. Much of what the company does within the organization regarding training is being offered to the broader industry because it recognizes they can benefit as well.
"A lot of folks who have experience are retiring, and a lot of health systems either haven't or can't make the investment to build the infrastructure to do the training, so it's a lot easier to come to somebody like us," says Rielly. About 30 percent of the training GE does is for in-house HTMs and they are in the same classes as GE's HTMs. GE trains about 5,000 HTMs per year, compared with in-house groups that usually can only train a dozen.
"In the past it was an anomaly if you had one in-house engineer sitting in a class, but now in virtually every class they are sitting side by side with our people," says Rielly. GE has started using a new, innovative approach to service training with the use of real-time simulators.
Simulators are used in numerous industries, but GE decided that the health care sector can benefit from them as well. The simulator for MR training is tactile and mimics the noises that the machine makes. The HTMs have to remove the covers of the MR and manipulate a screwdriver, just like they would in a real setting. "It absolutely tries to simulate as much of that machine as you can to make it realistic," says Rielly. "That is where the gaming element and some of the things we learned from the military really come into play."
Virtual classrooms
Philips also believes in the importance of offering training to HTMs. In addition to four Philips training campuses located in Cleveland, Ohio, the Netherlands, Singapore, and China, the company has a multi-vendor training center at AllParts Medical in Nashville, Tennessee.
The training centers offer technical training and support for the full array of Philips imaging and monitoring systems. All of the students also receive a similar level of training in MR, CR, ultrasound and portable and fixed X-ray systems from manufacturers other than Philips. Philips has a training program called Virtual Classroom Delivery in which much of the training takes place through online, interactive classrooms. The learning content for high-end equipment like CTs has been redesigned to use distance learning and asynchronous techniques.
"Training content is delivered blending both time-tested and state-of-the-art, scientifically- based methods that allow us to fully utilize the student's time away from their home site," says John Schlanger, head of services, parts and training at Philips. "Maximizing the work-life balance is so important to the needs of our learners."
Through this model of training, the HTMs are able to spend their time off with their families and it gives them the flexibility to take breaks when it's best for them and control the lessons with YouTube-style narrated lectures. They can stop the video and replay the parts that they didn't understand or would like to hear again. It allows them to move quickly through the information they already know.
"This method of learning is quite effective and shortens the length of hands-on lab time required to bring the student up to a level of proficiency to support their site," says Schlanger.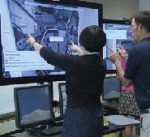 Tried-and-true
Other parts and service companies don't believe that online training is always the best approach. The Radiological Service Training Institute (RSTI) champions traditional, in class training. "[Online training] is OK for some medical devices, but we feel that for the highly complex and very expensive medical imaging systems, it is important for the student to be fully engaged in the learning experience," says Dale Cover, president and chief operating officer of RSTI.
RSTI has all of its students travel to the facility in Solon, Ohio, so they can have the equipment on hand for immediate access when questions arise. It also allows them to conduct lab experiments even the manufacturers wouldn't try in class, says Cover. "Online training claims to save you travel and time, but you miss out on the benefit of having the direct interaction with the instructor where you get the benefit of sharing their experience and the chance to focus on the learning without being distracted by our normal day-to-day activities," he adds.
Richardson Healthcare is another company that believes in in-class training. The company offers service training for Toshiba America Medical Systems' CTs, including the latest Aquilion PRIME CT, at its main training facility near Charlotte, North Carolina. The HTMs learn how to troubleshoot and change major components. There are quizzes and tests throughout the training process and when they pass those, they perform hands-on troubleshooting.
"It's really all about giving them the confidence to work on equipment and you really want to help them reduce the overall cost of that service delivery," says Pat Fitzgerald, executive vice president and general manager of Richardson Healthcare. "The only way you can do that is with good engineers on our staff who are running the training programs."
Each member of the training staff has more than 30 years of experience working on CTs. After the students graduate, they often call the staff members when they have any issue. "Our graduates know that they have that connection, and so when they are facing a problem on a scanner, [they are] usually their first call," says Fitzgerald. "Sometimes they know for sure if a part is down and ready to go, but oftentimes they are looking for second-level support with troubleshooting." Richardson Healthcare is looking to also provide training for Toshiba MRs as well as Philips CTs.
The digital world
The HTM and IT departments used to be separate entities, but with the introduction of EHRs and digital technologies, their roles have started to blend. There has been a tremendous amount of convergence between the departments in the last two or three years, says GE's Rielly. Rielly estimated that HTMs fall under the influence of the chief information officer in roughly half of the organizations in the U.S. More HTM programs are being run by the CIO because devices are now seen as part of the network.
"It's a big increasing trend where they're coming closer together," says Rielly. "In places that are not part of the same organization, there [are questions about] where the clinical network stops and where the device fits. There's that gray area in between." GE has become involved by offering a service program called Clinical Network Management that dictates the departments' responsibilities. The company takes a look at the overall network and decides who is going to be accountable for what.
They talk to asset managers in their programs and make sure that all assets are accounted for and that there are plans in place for how it will all be managed. "We don't view the network any differently," says Rielly. "It's an asset that needs to be managed, [but] because it kind of falls in the gray area, a lot of times that accountability is tough."