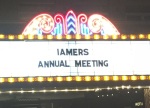 Who was at IAMERS and what happened?
May 11, 2016
For more than 20 years, I have been attending the IAMERS Annual Meeting. I am always glad that I attend; I always walk away a little bit smarter and it gives me the chance to see a lot of different people. This year was no exception.

My wife has come to look forward to the event as well. It gets her away from work and she gets to hang out with the other spouses. There is always a new person and the other spouses always seem to be very welcoming to the new people.

This year, there were several hot topics; the FDA, the possibility that they are going to regulate in-house and independent service companies, and the importance of being ISO certified.

Casper Uldirks shared a lot of his insight with us. One particular interesting thing he talked about was that as people retire and new people take their place in the FDA, those new people need to become acquainted with the sorts of things that the retiring people knew and took for granted.

It is really a brilliant observation when you think about it; in the same way that you have to introduce your company to new customers, all of us, have to reintroduce the newest members of the FDA team to the challenges that the health care industry faces.

Juile Mardikian from Oxford led the discussion on ISO certification and Rob Kerwin, together with Jim Goldner, helped.

In the past, I did not think that becoming ISO certified applied to me but I believe it was Stuart Latimer who pointed out that ISO certification helps to make his company more efficient and more profitable. He suggested that it was a net plus.

Kevin McGhee and Joe Sciarra talked about their experience and how their first consultant did not seem to understand their business but their second consultant was very helpful. They seemed to indicate that once they started to work and found their groove, following up on the paperwork was not easy — but nor was it too difficult.

John Krieg from the Medical Dealer presented to the group and talked about ways that he was helping his clients to gain greater visibility in the marketplace.

Everybody in the room had the chance to stand up and introduce themselves and tell everyone else a little bit about their company. That seemed to go over pretty well.

Diana Upton, the President, was loved and applauded by all. She works really hard to make these events successful and she did a great job this time. She spoke to us and commented about how many ultrasound companies were present at the meeting.

Some of these included Conquest Imaging with Mark Conrad, who never rests; Josh Sutton from Focused Ultrasound; Michael Asmer and Mike Dilick from MedCorp; David Trogden at Probo Medical and Stuart Latimer from Trisonics.

All of the OEMs were represented; from GE, Mike Schmit, Tracey Fox and Tom Jamison; from Philips, Pat Hiney, Wes Felldin and Michael Kane as well as the ever-charming Mike Vigtagliano, from Siemens, Heiko Schreml and Mike Poalise and from Varian, David Hurlock, who is not only one of the smartest guys I know in the business but also my definition of the perfect gentleman.

No show would be complete without Sandy Del Gozzo, who works for TD Equipment Finance and attended alongside her husband, Frank.

There were several companies there that have been in business a very long time. If I am not mistaken, Mark Schaefer and Jennifer Gagliano have worked for a company that has been in business for 60 years. Radon Medical has been in business for 40 years and Tim Martin and Tim Spears were there and told me some great stories about one of their neighbors in West Virginia.

I was very happy to see Tony Bodenheimer who came to the cocktail party and has worked with Tim Martin for many years. He really looked great. I think there is hope for me yet.

Trey McIntyre and Tom Spees were there representing Richardson Electronics and International Medical. I stopped to visit them on the way home and I will be telling you about that visit next week.

I think everybody was excited to see Steve Cannon and Dave Francoeur from Sodexo. I would not want to play chess with Steve Cannon because I know he is going to be two or three moves ahead of me and I am sure that with his involvement, Sodexo is going to grow its footprint in the industry. He told us that the company started with some guy making sandwiches in his kitchen and now I want to say they have something like 160,000 employees.

Another VIP was Steve Campbell from AAMI. I think we were all very flattered to have him there and I am sure he left with a positive impression of IAMERS.

Did I mention that Diana did a really good job organizing the show?

David and Ruth Stopak from A. Imaging Solutions were there and David admitted that not only does Ruth have the good looks in the family but also the brains.

Mark Shina and Lisa Wiggs were there from Absolute Imaging. They are a solid company and both of them give you the feeling that they are trustworthy.

There were three VIPs from Block Imaging there; Jeremy Block, Josh Block and Jason Crawford. Those guys really have a tiger by the tail but they do not seem to be letting it go to their head.

There were a number of very well known and respected independent dealers there.

David Pac with American Radiology Resource; Richard Hart was there with his wife, Kathy. He probably has more air miles than anyone in the room; Sean Chen, who has to be one of the most down to Earth and straight shooting fellows I have seen in a long time; Hiren Desai who left on Friday to take his MBA exam (Hiren really is amazing and a very knowledgeable international business man); Rick Henderson with MRI Depot spoke with his Australian accent and welcomed Dane Shelford, who lives in Australia and works for Medical Resale and attended the event with Casey Sullivan; Phil Forma was there with Tower Medical and Daniel Person with W7 Global.

There were also some companies that deinstall equipment and store it and that provide service as well as rentals:

Representing Oxford was Jeff Fall, Dave Band, who was the founder of IAMERS, Julie Markdikian, who as I said above was very knowledgeable about ISO certification and Will Hegemuehle Jr., who I mistakenly introduced as Bill Hegemuehle because I knew his father.

Shared Imaging was represented by Dave Neally and he traveled with his wife who is convalescing from a car accident and seems to be doing very well.

Dan Wheeler was there with his new CFO, Ryan Lynch. I sat with them at dinner and learned a few things. Dan seems to be going all over the country and he talked about several offices he has.

Universal Medical Resources was there with Jason Kitchell and Craig Diener. They were one of the nuclear medicine companies there and they make a great product.

Also representing nuclear medicine was Carolyn Shaw from Northeast Electronics. Unfortunately, John was not able to be there. Carolyn and John are a very nice couple and always bring a calming effect.

Robert Manetta was there and when he was not talking to someone on the phone, there was a line of people waiting to see him. His daughter joined us one night and she has grown up to be a very impressive young lady. Robert told me his son just passed the bar so Robert and his wife Tracy seem to be on cloud 9.

On Friday, Dirk Smith talked to us about rigging and the challenges that a rigger faces and the challenges that a company that deinstalls equipment faces.

Robert Kerwin pointed out the link between proper planning for the installation and ISO certification.

Wayne Webster and Robert Kerwin also talked about how important it is to have a complaint resolution process as part of your ISO certification procedures.

Wes Preston and Jimmy Kallam attended from East Coast Medical. Wes flew and Jimmy drove. I am not sure if Jimmy is making a statement about Wes' piloting skills or if their schedules did not jell but anyway, I saw a picture of Wes' plane from 1944 and it was a real beauty.

Jim Balet was there from Cool Pair Plus and we spoke briefly about his efforts to refurbish 4K coldheads. He talked about coming to visit me in New York and I am hoping that is the case sometime soon.

Representing DOTmed was Colm Ford, Stephanie Lau, our director of marketing, and Linda Comisar, our new vice president. I know for a fact all three of them had a good time.

I guess this recap would not be complete without mentioning that there were a few old timers there.

Dave Band I already mentioned; Ed Sloan who I think is on his third career expanding in the USA and Europe was there but unfortunately, Wanda was not with him.

Jim Goldner was there and talked a little bit about the new radiology equipment he is importing from Europe.

Chad Fowlkes was there with Holly Taylor from Dedicated Imaging Solutions. Chad is now actively involved in parts and training and talked a lot about his plans for growth.

Wayne Webster was there and as analytical as ever and I cannot forget Don Bogutski and myself. They say wine gets better with age but clearly that is not true with the two of us.

Oh, please, do not let me forget Victor Cruz, who was there representing the ability to transport equipment anywhere in the world. He was there with Liz and they really are a handsome couple.

All in all, it was a great event and I am glad I went.

If you want to learn more about IAMERS, you can go to www.iamers.org and find out for yourself.