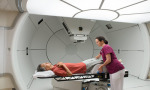 Varian to equip, run two new proton therapy centers in England
March 11, 2015
by
Thomas Dworetzky
, Contributing Reporter
Two new national proton therapy centers in England will be equipped with the Varian ProBeam proton therapy system, according to Varian Medical Systems.

It will also operate the London- and Manchester-based three-room centers. They will be located at University College London Hospitals NHS Foundation Trust in London and The Christie NHS Foundation Trust in Manchester.

"Varian is proud to have been selected as the preferred equipment supplier for the proton therapy centers at UCLH and The Christie," said Dow Wilson, Varian's chief executive officer.

The contract is for £80 million. The company anticipates signing the deal and booking the equipment portion of the contract this summer, with installation to take place beginning in August 2017.

The centers are scheduled to be open for patient care in 2018.