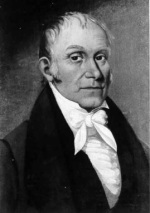 At your cervix: the first successful ovarian surgery
December 25, 2013
by
Carol Ko
, Staff Writer
On Christmas day, 1809, Ephraim McDowell became the first surgeon to successfully remove an ovarian tumor after operating on patient Jane Todd Crawford in his log cabin near Motley's Glen in Green County, Kentucky — a small frontier town less than 70 miles from Abraham Lincoln's birthplace. With this operation, the field of abdominal surgery was born.

McDowell was the ninth child of Samuel and Mary McDowell, born in Rockbridge County, Virginia. His father was a prominent, seasoned military man, a veteran of the French and Indian War and a colonel during the American Revolution. In 1784 Samuel McDowell was appointed land commissioner and moved his family to Danville, Kentucky. There, he presided over ten conventions that resulted in the drafting of the Kentucky Constitution.

McDowell attended the classical seminary of Worley and James — the best education the frontier offered at the time. Starting at age 15, he spent three years as a medical student under Dr. Alexander Humphreys in Staunton, Virginia. He went on to attend lectures in medicine at the University of Edinburgh in Scotland from 1793 to 1794 and studied privately with John Bell.

Upon his return from Scotland in 1795, he settled in Danville, Kentucky and began his practice as a surgeon. In 1802, he married Sarah Shelby, daughter of Isaac Shelby, war hero and two-term governor of Kentucky.

On December 13, 1809, McDowell was called to see Jane Todd Crawford in Green County, 60 miles from Danville. Her physicians thought that Mrs. Crawford had an overdue pregnancy, but Dr. McDowell knew this was something different: he diagnosed her with an ovarian tumor.

Desperate to avoid a slow and painful death, Crawford begged McDowell to operate on her. He cautioned her that the best surgeons in the world thought the operation impossible to perform, but Crawford was adamant that she wanted to proceed.

That Christmas morning, Dr. McDowell began his operation. The tumor Dr. McDowell removed weighed 22.5 pounds — he later described it as a "dirty, gelatinous looking substance."

He determined that it would be difficult to remove it completely, so he tied a ligature around the fallopian tube near the uterus and cut open the tumor. The whole procedure took 25 minutes.

Mrs. Crawford astonished McDowell by making an uncomplicated recovery. "In five days I visited her," he reported later, "and much to my astonishment found her making up her bed." She returned to her home in Green County 25 days after the operation and lived another 32 years. This was the first successful removal of an ovarian tumor in the world.

Most notably, the surgery was performed without benefit of anesthetic or disinfection, neither of which was then known to the medical profession. Unsurprisingly, all attempts at abdominal surgery before 1809 had resulted in peritonitis and death.

The key to McDowell's success in this procedure probably lay in his meticulous hygiene, which was consistently described by others as "neat" and "scrupulously clean." In his report on the operation, he described the removal of blood from the peritoneal cavity and bathing the intestines with warm water.
McDowell did not publish a description of his procedure until 1817, after he had performed two more such operations. All in all, historical evidence suggests he performed at least twelve similar operations to remove ovarian cysts.

Like his father, Dr. McDowell became a well-respected cornerstone of the community for the remainder of his life, founding Trinity Episcopal Church in Danville, and also founding the primary board of trustees of Centre College in Danville. Dr. McDowell became a member of the Philadelphia Medical Society in 1817.

McDowell died on June 25, most likely due to appendicitis, and was buried at "Traveller's Rest" south of Danville. He was later reinterred in 1879 near a monument dedicated to him in Danville.