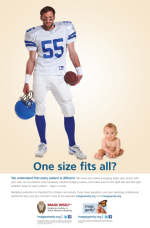 Image Wisely urges nuclear medicine docs to take the pledge
November 20, 2012
by
Brendon Nafziger
, DOTmed News Associate Editor
A campaign by radiologists to encourage health care providers to expose patients to less ionizing radiation is urging nuclear medicine doctors and technicians to take the pledge.

Image Wisely announced Wednesday that it worked with the Society of Nuclear Medicine and Molecular Imaging, its technologist section, and the American Society of Nuclear Cardiology to create online documents to help providers use the lowest dose of radiopharmaceuticals necessary to take a scan.

"Nuclear medicine exams help save and extend lives every day, but opportunities remain to ensure that each patient receives optimal care," Dr. M. Elizabeth Oates, the chair of the American College of Radiology's nuclear medicine commission, said in a statement. "I can't urge providers strongly enough to use the materials gathered for this Image Wisely initiative."

The campaign asks providers to agree to a four-point pledge: to perform nuclear medicine procedures only when clinically indicated; individualize administered doses; take steps to minimize radiation dose; and become familiar with the radiopharmaceutical's recommended administered activity.

For instance, for bone scintigraphy, the group says to minimize dose, patients should drink two tall glasses of water after the test and stay hydrated for the following 24 hours, according to documents on the Image Wisely website.

The pledge can be taken by radiologists, technologists, referring physicians, imaging facilities and medical associations. As of this writing, 15,881 pledges have been taken, according to the organization.

The Image Wisely campaign was created by the American College of Radiology, the Radiological Society of North America, the American Association of Physicists in Medicine and the American Society of Radiologic Technologists.