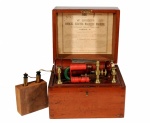 Griggs Conical Electro Medical Machine
February 01, 2012
The picture and description appear courtesy of Dr. M. Donald Blaufox, M.D., Ph.D, from his website: www.mohma.org.

Each month we visit Dr. Blaufox's Museum of Historical Medical Artifacts to take a look back at the medical equipment that cleared the way for what patients encounter in the doctor offices and operating rooms of today. Some equipment may be recognizable, while other inventions featured here have since become obsolete or have had their usefulness discredited.


Category: Electricity
Estimated Date: 1874
Name: Griggs Conical Electro Medical Machine
Manufacturer: W. Griggs
Description: 10" x 8" x 9" box with instructions in lid wooden compartment contains two brass sponge holding electrodes some accessories missing. Coil sits on 8.5" x 4.5" x 1.25" wooden platform covering compartment for battery. The coil is 7.25"x 3" conical shaped wooden covered with 4 brass posts and magnet at side. Made of mahogany, ivory knob for obturator has been replaced. Plaque reads: Griggs Conical Electro Magnetic Machine, Patent no.87 Jan. 8th 1873 33 Eastbourne Terrace Hyde Park London. Maker JR. Chislett, Plymouth.