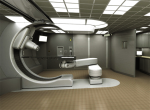 Fla. radiation oncology group to buy Mevion synchrocyclotron
January 23, 2012
by
Brendon Nafziger
, DOTmed News Associate Editor
A Palm Beach radiation oncology group announced Monday it would buy Mevion's smaller-footprint synchrocyclotron to install in a new proton therapy center.

South Florida Radiation Oncology LLC, which runs eight radiation therapy centers in southern Florida, said it's aiming to begin installing the Mevion S250 at one of its Palm Beach County locations in 2013. The proton therapy center, which will have one or two rooms, is expected to cost between $25 million to $30 million, and will be self-financed by SFRO, a spokeswoman for the group told DOTmed News by e-mail.

Once it's up and running, likely in 2014, the center should treat between 35 and 50 patients a day, the spokeswoman said.

Littleton, Mass.-based Mevion Medical Systems, formerly known as Still River Systems, makes a superconducting synchrocyclotron. After years in development, installation of the first unit began at a Barnes Jewish Hospital cancer center in St. Louis in October. Two other installations are underway at Robert Wood Johnson University Hospital in New Brunswick, N.J. and Oklahoma University in Oklahoma City, Mevion said. All three installations are expected to wrap up this year.

Mevion's is one of a newer breed of proton therapy technologies aimed at avoiding the bank-breaking $120 million and upwards price tag of most U.S. proton therapy centers.

In part because of the technology's tremendous cost, only nine proton therapy centers are currently operating in the United States. However, SFRO's center would be the second in Florida. The University of Florida's Proton Therapy Institute, with three gantry rooms, opened its doors in 2006.

SFRO is based in Wellington, Fla.

Correction: An earlier version of this article referred to the technology as a synchrotron. We apologize for our error.