This report originally appeared in the September 2011 issue of DOTmed Business News
For cars, regular maintenance and common sense can go a long way in keeping them rolling. MRI coils are similar in that respect, but too often, minor problems quickly become major issues further down the road.
Fortunately, some experts in the field have shared their insight and have offered their expertise to give you tips to help keep your coils in your practice and out of the shop.
Downtime means lower profits
Rick Sagadin, president of Carolina Medical Parts, notes that about 50 percent of the coils that come in to his company for repairs suffer from an operator related failure. "The most common problems we see are related to the cable and connectors," says Sagadin.
Depending on the manufacturer, according to Sagadin, the bill can run anywhere from $500 for a simple repair to as much as $3,000 or more if the connector has to be sources from an OEM. The hit to the wallet doesn't stop there however. There's also the potential lost revenue due to the loss of the coil which can be out of commission for five days to as much as nine, depending on the severity of the issue and the availability of the needed parts.
And the repairs aren't as easy as they might have been decades before. Today's coils have fewer user serviceable parts and hefty price tags on the newer accessories mean someone tinkering to make a fix could be in for more than he or she bargained for.
MR technology has evolved much like computer technology in that equipment once filled huge rooms. Today, the equipment can comfortably be tucked into a corner of a modest room. The equipment has become less bulky, but much more complicated, offering more software and less hardware and the coil plays a role as well. "Even at the coil level, the changes I've seen over the last 30 years have been significant," says Sagadin. "Where in the past, most of the electronics were found elsewhere in an MR scanner, today, much is found in the coil which might have 10,000 components."
If people consider the fact that they're potentially knocking around 10,000 components every time a coil is manhandled, there might be some more thought to it.
Sagadin offers this parting advice, "If a customer would handle their coils just as gently as they'd handle their patients, the coils would last a lot longer."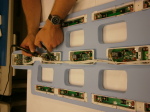 Key points for consideration
LeRoy Blawat, president of Resonant Diagnostics offered some key points to keep in mind when caring for coils.
He highlights hygiene, maintenance, storage and handling as the most important concerns that need to be addressed in order to get the most life out of your coils and to provide the best care for your patients.
Nick Hersman, associate product manager for Medrad, Inc. also contributed or confirmed points to the following list.
Hygiene
• Keep coils clean to prevent the spread of blood borne pathogens and other contagions
• Wipe the coils down with a bleach/water solution or rubbing alcohol with a soft cotton cloth. Be sure to also wipe down external pads and the cable assembly
• Avoid using solvents that will dull or damage the finish of coils and pads.
• Keep MR tables clean to ensure good adhesion with the rubber pads on the bottom of coils
Maintenance
• Periodically tighten any screws visible on the cable
• Keep electrical connectors on coils free of dirt and debris by using compressed air to blow out electrical connectors where coil plugs in. Do NOT use the compressed air in the scan room
• Do not use Velcro as a means to "stiffen" up your electrical Connections - the hair from the Velcro can get pushed into the brushes of some connectors, preventing a good electrical connection. Instead, replace the parts of the cable or mating connectors as needed
• Inspect cable strain reliefs and cables for tears in the coating or exposed braid on inner coaxial cables
• Perform daily QA tests on your coils with factory phantoms to ensure SNR performance
• Replace torn comfort pads – torn pads can harbor hospital debris and human liquids
Storage
• Invest in a no-slip shelf or cabinet with no-slip shelves to store your coils. Rubber mats with ESD protection may also be useful
• Consider hanging flexible coils be hung on the wall as a means to prevent too much stress on the flexible areas of a coil. Hanging the flexible coils also prevent rubber padded coating from getting cut or compressed.
• Do not store coils on the floor.
Handling/usage
• Carry all MR coils by their handles, not the cables or flexible padded area of the coil
• When disconnecting coil from machine, do not yank the coil connector out by the cable – grasp the plug and gently pull it out of the mating connector
• When plugging in a coil, do not force it, be gentle. Be sure to plug it in straight – plugging it in an angle will cause plastic to wear away from the connector housing and plastic shaving can find their way into electrical connections
• Get training on your specific coils to learn how to troubleshoot them with the owner's manual.
• Insist on having the users/owner's manual if you are buying coils on the used market
• Invest in phantoms for your coils so that you can run the proper diagnostic tests on your coil.
DOTmed Registered MRI Coil repair Companies
Names in boldface are Premium Listings.
Domestic
John Bachellier, MBI-USA
, CA
Moshe Alkalay, Hi Tech Int'l Group
, FL
DOTmed Certified
Ray McClellan, MRI Technical Services Inc
, GA
Wes Solmos, Creative Foam Medical Systems
, IN
DOTmed Certified
Chad Seelye, Block Imaging Parts & Service, Inc.
, MI
DOTmed 100
Joe Merz, TopLine Medical
, ND
DOTmed 100
Randall Jones, Resonance Innovations LLC
, NE
DOTmed Certified
Alison Fortin, Global Inventory Management LLC
, NH
DOTmed Certified
DOTmed 100
Scott Scofield, VIVID IMAGING
, NV
Tim Wright, Virtual Medical Sales Inc
, NY
Steffen Baumann, Noras MRI products
, OH
Nicholas Hersman, MEDRAD, Inc.
, PA
International
Tajinder Singh Bhatia, MRI Services
, India