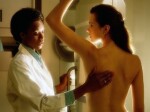 FDA eases approval of digital mammography devices
November 04, 2010
by
Olga Deshchenko
, DOTmed News Reporter
Manufacturers of full field digital mammography systems can now breathe easier.

The U.S. Food and Drug Administration announced Thursday the reclassification of digital mammography systems from Class III to Class II devices, moving them from a high-risk to a medium-risk classification.

The reclassification of the devices makes the market approval of new systems less burdensome for manufacturers. When seeking market approval of Class III devices, companies are asked to submit "proof of safety and effectiveness before the product can be approved for marketing," according to the FDA, which often means expensive clinical trials.

But Class II devices only require companies to show that the product is "substantially equivalent" to a similar device on the market through the 510(k) process.

When FFDM systems were first approved by the agency in 2000, not much was known about the risks and benefits of digital as compared to film mammography, according to the FDA. Today, enough evidence exists to consider the technology safe and effective.

"Our decision to reclassify these devices is consistent with feedback we've received from public discussions with appropriate medical and scientific experts as well as our stronger understanding of how these systems work," said Dr. Jeffrey Shuren, director of the FDA's Center for Devices and Radiological Health, in prepared remarks.

About 70 percent of mammography systems are digital and 70 percent of certified U.S. mammography facilities have at least one digital device, according to the FDA.

The agency has approved five FFDM systems since 2000.