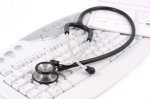 Electronic patient records speed up Chlamydia treatment process
May 27, 2010
by
Heather Mayer
, DOTmed News Reporter
Electronic health records, or electronic patient records (EPRs), as they are called in the United Kingdom, "dramatically" increased the speed of the Chlamydia treatment process in a study published Wednesday in the journal Sexually Transmitted Infections.

The researchers, led by Gary Brook of the North West London Hospitals Trust, studied more than 100 patients who were treated during the first three months of 2007, before EPRs were introduced, and patients treated during the first three months of 2009, after EPRs were implemented into the sexual health clinic.

"I've been an advocate of EPRs for many years, and I expected that there would be a large efficiency accruing from EPRs," Brook told DOTmed News. "I felt I had to prove [their efficiency and effectiveness] to other people."

After the introduction of EPRs, the average time taken to treat a patient after a positive Chlamydia test decreased by 11.5 days to 3.5 days, according to the report. And, the proportion of patients treated within two weeks of a positive result increased from 38 percent in 2007 to 94 percent in 2009.

"The degree of improved efficiency surprised me," said Brook. "I didn't think it was going to be that good."

The increased speed of notifying patients of test results, thus starting treatments earlier, is attributed to the fact the EPRs are more organized and leave less room for error, the reports conclude. This is highlighted especially when it comes to calling patients with test results. In many cases, the paper records had inaccurate contact information. Letters sent by snail mail as a way to reach patients slowed the process even more.

"Theoretically, EPRs are more efficient to use than paper-based records for recall due to instant access and the use of fail-safe mechanisms, which ensure better patient contact information," the researchers wrote.

"In paper records, you leave it entirely to administrative staff to make sure telephone numbers are up to date," said Brook. "What we find is that when patients come in and are asked about their telephone number, for some reason they often don't give an updated telephone number."

Using EPRs speeds up the process by cutting out three of the clinic's steps to treat patients, including requests to reception to find patients' notes, notes sought by reception and notes returned to the health adviser. Now, after positive results are received, the clinic can immediately contact the patient either by phone or letter, using up-to-date, electronically filed contact information.

Analysis of the paper records system between 2007 and 2009 showed that inefficiencies were largely due to long times taken to find notes and having that inaccurate contact information.

Brook said that while the upfront cost of implementing an EPR system is expensive, over the long term it will save hospitals and clinics money.

"Clearly there is the upfront cost to set up the system, but once you've done that, all sorts of cost efficiencies [begin]; you don't have paper notes, you don't have to stock paper notes -- savings accrue around that," he said.

While Brook focused on sexually transmitted diseases because that is his area of expertise, he says EPRs will help any department become more efficient and treatment processes more effective. But having an EPR system in a sexual health clinic that helps treat people faster is particularly important.

"The sooner you treat someone, the less likely he is to pass it on to someone else ... so there's an impact on the spread of Chlamydia," he says.

And the quicker someone is treated, the less chance he or she has of developing complications.

WHAT ABOUT CONFIDENTIALITY?

As more facilities institute electronic record systems, the concern for confidentiality comes to the table. This is intensified when it comes to sexual health. Brook pointed out that his clinic's center is extremely secure.

"I believe in our setting, EPR is actually more secure than paper notes," he said. "They sit on shelves inside departments. Someone can break into the department and read them...You can't do that with an EPR."

But in the past several months there have been reports all across the United States of hackers, theft and security breaches in electronic records. For example, in April, a Kentucky medical center notified 5,418 patients of a breach in personal protected health information as a result of a stolen laptop from its mammography suite.

California-based John Muir Health informed 5,450 patients about a potential breach of personal and health information last month as a result of two laptops stolen from the perinatal office, which occurred in February.

And due to a hard drive theft in October, BlueCross Blue Shield of Tennessee identified nearly 1 million current and former members who may have been affected.

It would take a "sophisticated hacker to get into our server to do that," says Brook.